Anniversary House
133 South 100 West
Cedar City, UT 84720
(435) 865-1266
(800) 778-5109
435-865-6868
Price Range: $89 - $139

Set quietly along a tree covered lane, The Anniversary House is a warm and welcoming Craftsman style bed and breakfast. Originally built in 1926 and newly renovated and expanded, The Anniversary House combines the traditional warmth and character of the period but adds the comforts and amenities of today. The Anniversary House is located, within walking distance, just two blocks from the Tony award-winning Utah Shakespearean Festival and the Southern Utah University Campus. The Inn is also only one block from Main Street boasting quaint shops and numerous restaurants.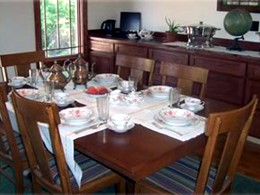 Accommodations
There are 5 rooms at the Inn, 1- Queen, 3-King and 1-two Queen bed suite. All rooms have television and DVD players, hairdryers and wireless internet. The Oceanside Room has a fireplace and seperate sitting area, making it the perfect romantic getaway. The beautiful gardens provide a relaxing environment for your enjoyment.
Breakfast
Our breakfast is served in the sunlit dining room or you can enjoy it alfresco style on the large deck in the fresh air of Cedar City. Our specialty dish is Gilbert's Featherbed Eggs. So delicious you can enjoy it with salsa or syrup, depending on your taste. There are many other dishes served and we will be happy to accommodate any special dietary needs you may have. Fresh fruit, fruit smoothies, banana bread, pumpkin rolls and fresh baked cinnamon rolls add to a wonderful eating experience.
Dining
Garden House The Garden House of Cedar City provides good times and great food. The restaurant is a neighborhood favorite, and offers a casual, friendly dining atmosphere that you and your friends are sure to enjoy. Garden House of Cedar City also features a friendly, professional staff of great people, who will make sure you enjoy your visit and that Garden House of Cedar City lives up to its reputation for pleasant dining and superb cuisine. The menu offers an inspired array of selections that is sure to satisfy everyone in your group, every time. Be sure to ask your server about new selections, daily specials, and special chef's creations. Whether you're in the mood for casual dining or a special occasion, Garden House of Cedar City is sure to please. Best Known For... Homemade soups, fresh seafood and pasta. Milt's Stage Stop This dinner spot in beautiful Cedar Canyon is known for its 12-ounce rib-eye steak, prime rib, fresh crab, lobster, and shrimp dishes. In winter, deer feed in front of the restaurant as a fireplace blazes away inside. A number of hunting trophies decorate the rustic building's interior, and splendid views of the surrounding mountains delight patrons year-round
Local Attractions
Cedar City, Utah is the home of not only the Tony Award winning Utah Shakespearean Festival, but also the epicenter of many other National and Regional attractions. Here are a few other interesting places to visit in the area that will make your trip even more enjoyable! Cedar Breaks, Zion National Park, Bryce Canyon, Kolob Recreation Area, Panguich Lake, Navajo Lake are just a few of the spectacular places to visit from our Inn. Shopping is joyful in the quaint shops on Main Street, downtown Cedar City.