1890 Williams House Inn
420 Quapaw Avenue
Hot Springs, AR 71901
501.624.4275
1.800.756.4635
Price Range: $121 - $299

1890 Williams House Inn, a nine room bed and breakfast located in Hot Springs, Arkansas, is listed on the National Register of Historic Places. 1890 Williams House Inn is masterfully constructed and this historic-district jewel showcases beautiful woodwork and architectural detail. Dr. A. U. Williams a prominent physician and businessman built this grand mansion where four generations of family lived until the mid 70's. The Main House boasts six guest rooms and the Carriage House, just steps from the Main House, and built in 1889, has two guest rooms and a cottage. Intimate wedding ceremonies and gatherings entice the bridal party and their guests to relax and enjoy the ear of 1800's with all of the modern conveniences. From elopement packages to reception and ceremony packages, your event will be stress free and customized to your wishes. In 1980 1890 Williams House Inn became the first bed and breakfast in the State of Arkansas. Guests enjoy the gardens and the large wrap-around southern veranda. Come relax in comfortable elegance.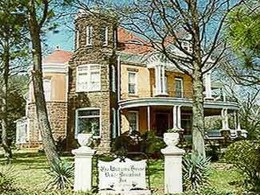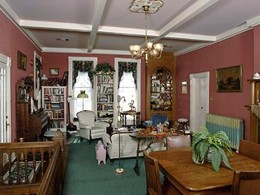 Breakfast
Each morning a full and delicious two course breakfast is served to our guests. Always starting with homemade breads and fresh fruit, you relax in the comfort of the dining room or in the privacy of your guest room. Stuffed French toast, breakfast quiches, or blueberry pancakes are just a few of the menus that we offer. Thickly sliced bacon or the Inn's special recipie for sausage add the final touch to the main meal. The staff strives to ensure that your breakfast meets your dietary restrictions. All recipies are available for sale at $1.00 each and the proceeds are donated to charity.
Dining
The guests of the Inn enjoy their full breakast in the original dining room located on the first floor of the Main House. Dr. Williams would sit at the family dining table and push a button located in the floor to call the cook for his families needs. Today, the Inn's staff serve you at your individual dining tables, of which there are five. The Parlor and Williams Suite enjoy their full breakfast in the privacy of their room. Breakast service can be provided to guests in the East Chamber, Front Chamber and Guest Chamber for a small additonal fee. 1890 Williams House Inn is a State of Arkansas licensed facilty and enjoys the opportunity to cater wedding receptions, luncheons and other on-site events. Bakery items are available for sale and will be packaged for safe transport home.