William Sauntry Mansion
626 4th Street North
Stillwater, MN 55082
651-430-2653
800-828-2653
For those looking for a truly historic Minnesota vacation or a getaway in Stillwater -- a city with a long and colorful history -- will want to indulge themselves in the accommodations offered by the William Sauntry Mansion, a Victorian inn known for its luxurious accommodations. Built in 1881 by lumber-baron William Sauntry, whose life was truly a rags-to-riches story, this 7,000 square foot home reflects his eccentricities and penchant for opulence. Today, glowing wood and stained glass, elaborately decorated ceilings and antiques and collectibles surround you throughout this gracious home nestled in the hills of historic Stillwater, Minnesota. You will feel you've taken a romantic step back in time, while being pampered by modern luxuries. The William Sauntry Mansion is Stillwater's only Bed and Breakfast listed on the National Register of Historic Places. The inn has been fully restored and guests experience modern comforts, combined with the nostalgia of Victorian splendor, for an unforgettable vacation experience - Minnesota lodging at it's finest.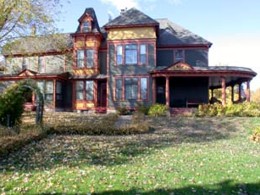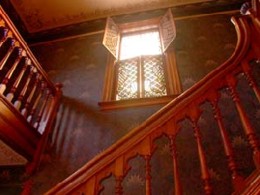 Accommodations
Sauntry Mansion offers six guest rooms. All room have private bath with double whirlpool tub, fireplace, cd sound system, and king or queen size beds. At check in, we offer snacks and refreshments from 4 to 6:30 pm
Breakfast
The Sauntry Mansion breakfast is four courses which always include: fresh fruit, scone or pastry, main course, and homemade dessert. Yes, we have dessert for breakfast at the Sauntry
Dining
Stillwater has fantastic dining choices. Our favorites include Savories, Marx, Cesares, The Dock Cafe, Stone's, and Lunna Rossa. Nearby you will find the Lake Elmo Inn and Bayport Cookery. Our website, www.sauntrymansio.com, has direct links to these restaraunts.
Local Attractions
Stillwater is an outstanding, historic, rivertown. It is reknowned throughout the Midwest for its antiques and historic downtown retailers. In addition, Stillwater is home to the Minnesota Zephyr dinner train and Andiamo Paddleboats.