The White Oak Inn
29683 Walhonding Road
Danville, OH 43014
740-599-6107
877-908-5923
Price Range: $140 - $240

Tucked into a quiet wooded valley in Ohio's Amish area, The White Oak Inn offers a peaceful place to escape from it all. We start each morning with a hearty country breakfast, and offer fine dining or romantic dinner baskets in the evening. Although it's tempting to just curl up in front of one of the fireplaces with a good book, there are many attractions in the area you don't want to miss. If you're an outdoor enthusiast, there is golf, hiking, cycling, fishing or canoeing. For a cultural or historic experience, visit the Amish area or Historic Roscoe Village. See basket weaving at Longaberger's Homestead.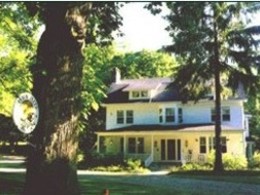 Accommodations
The original Crise family home holds seven of the inn's guest rooms, including The White Oak Room, our ground floor luxury room with whirlpool tub and fireplace. The former chicken barn of the inn is now our Guesthouse, with three fireplace rooms. The ultimate romantic retreat is found in our two luxury log cabin cottages, each with 600 square feet of space, separate living room and bedroom, two-person whirlpool tub, fireplace and private deck. All rooms have private bathrooms and all guests are welcome to enjoy the inn's large common room with antique square grand piano, as well as any of the porches or screened house.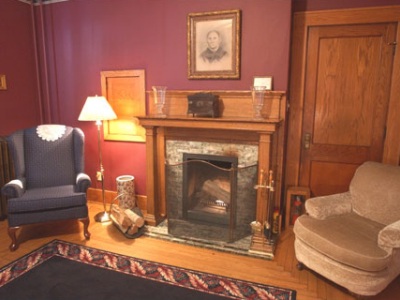 Breakfast
Inn guests wake up to the smell of baking muffins wafting up to their rooms. Our special White Oak Wakeup blend of coffee is ready in the common room. Breakfast includes fresh fruit, our egg dish of the day, and a breakfast meat such as Amish style peppered bacon or sausages. Our personal favorite breakfast dishes include Artichoke baked eggs, Blueberry Blintz bake, and caramel apple bread pudding.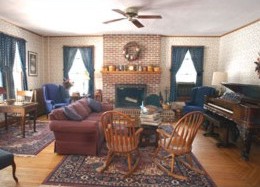 Dining
Inn guests can choose between a candlelit dinner in the inn's dining room, or a romantic dinner basket delivered to their room. Either choice features local produce in season and herbs from the inn's garden. Soups, salad dressings and dessert are made fresh daily. We offer two main courses each day. Some of our signature dishes include salmon with mango salsa, chicken with apricot rosemary sauce, and pork with cherry spice glaze. We are happy to accommodate any special dietary needs.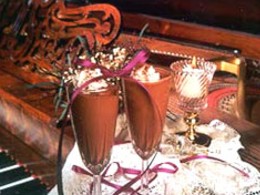 Local Attractions
The inn is located in Ohio's Amish area, close to Holmes County, Millersburg and Berlin. There are dozens of things to see and do, whether it's visiting a farmers' auction, shopping in the quilt and furniture shops, picking up cheese, baked goods and preserves to take home, or simply enjoying the breathtaking views. Historic Roscoe Village is also nearby, with canal boat rides, museums and shops. The area has many fine antique stores and gift shops.