Weller House Inn
524 Stewart Street
Fort Bragg, CA 95437
707-964-4415
877-893-5537
707-964-4198
The Weller House Inn was built in 1886 and is Fort Bragg's most historic building. It is the city's sole residence on the National Register of Historic Places. When Ted and Eva Kidwell bought the Victorian house in 1996 they took on a complete restoration and renovation project, including reconstruction of the historic water tower, the tallest structure in Fort Bragg. Guests can ascend it for whale watching or just for a commanding view of the ocean and mountains.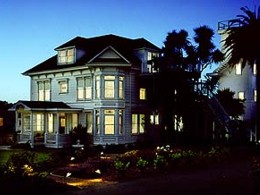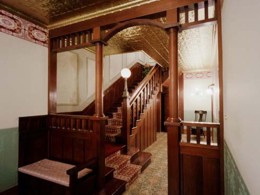 Accommodations
Along with the stunning Weller House ballroom and statue-filled English gardens, each room is individually crafted. All have private baths and Victorian appointments. Each of the seven guest rooms offer comfort, privacy, and quiet. Hand painted tiles, marble and fireplaces, beautiful stained glass, fluffy down comforters, and other thoughtful details result in a luxurious escape.
Breakfast
Eva┐s Swedish heritage ensures that each guest will enjoy a most sumptuous breakfast. A typical Weller House breakfast might include fresh squeezed orange juice, breakfast pastries and freshly baked rolls, an elegant quiche or fritatta, fresh fruit salad, and plenty of tea and French roast coffee.
Dining
There are three wonderful and diverse restaurants within walking distance of the Weller House Inn. Mendo Bistro offers affordable and interesting food in a spectacular setting. Nits offers Thai food presented so perfectly you want to put it in an art museum. North Coast Brewing Co. offers good food and world-class beer. And the Rendeavous is a great choice for a romantic dinner out.
Local Attractions
Folks come to the Mendocino Coast for the world-class, uncrowded beaches. There are 7 state parks within a 15 minute drive from the Weller House. The Botanical Gardens are the only gardens that extend all the way to the coast in California. The area is known for its artists and art galleries.