The Volcano Teapot Cottage
PO Box 511
19 Kilauea Road
Volcano, HI 96785
(808) 967 7112
Price Range: $195 - $195

Fall under the spell of Volcano Teapot Cottage Bed and Breakfast, an enchanting turn-of-the century board and batten cottage surrounded by whimsical gardens in the heart of Volcano Village on the Big Island of Hawaii. Nestled on 2½ acres of upland elevation rainforest and surrounded by landscaped grounds of Camellia, Hydrangea, Hapu ferns, Ohia and Koa trees, this picturesque bed and breakfast cottage invites you to experience the Hawaii of a bygone era.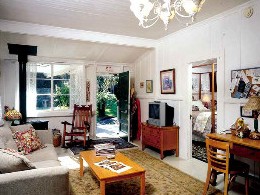 Accommodations
An adorable two bedroom and one bath bungalow, splendidly furnished with antiques and those special touches that make this cottage a "home away from home."A very comfortable four poster bed with flannel sheets, down comforter, quilts, & a cozy setting prepares guests for an intimate and very restful night. A second bedroom has two twin beds in a lovely country motif. The bathroom features a claw-footed tub supplied with Hawaiian sea salts.
Breakfast
The cottage also features a full kitchen well supplied with appliances and stocked with breakfast foods. Each morning enjoy a relaxing breakfast consisting of baked goods provided by a village pastry chef, tropical juices and fruits, locally made jams and jellies, an assortment of local coffees, and, of course, a good variety of teas
Dining
Optional Amenities Upon Request, What can be more romantic than to have a gourmet dinner delivered to your own private getaway? Volcano Village features culinary chefs who will prepare and deliver a gourmet dinner to your dining table.
Local Attractions
Enjoy our Hot tub in a private forest garden
Of Special Interest
Massage & healing touch, Optional Amenities Upon Request