Three Mountain Inn
3732 Main Street, Route 30
PO Box 180
Jamaica, VT 05343
802.874.4140
800.532.9399
802.874.4745
Price Range: $145 - $360

The mission of Three Mountain Inn is all about you--to exceed your expectations, and we hope to have the opportunity. The 21st Century is evident in our splendiferous in-room amenities, our Vermont-fresh cuisine, extensive wine selection and well-stocked pub. Three Mountain Inn is convenient to all of Vermont. Hiking, cross-country skiing, summer theater, Vermont Symphony are seasonal events; while fresh air, starry nights, and mountain views are available year-round. Most of all we have people--innkeepers, chefs, and staff devoted to the fulfillment of your desires, and the creation of pleasu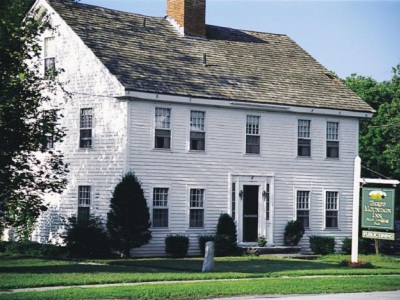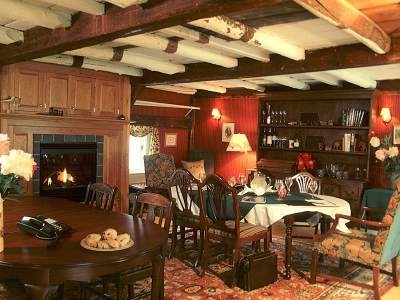 Accommodations
Our 14 rooms and luxurious private cottage are all appointed with luxurious linens, relaxing robes, period pieces and beautiful bedding. All have CD players and phones, most have fireplaces while some have private decks, whirlpool tubs and TV/VCRs. Your stay includes a full country breakfast, afternoon refreshments and scintillating service. Regardless of which room you choose, we will do our best to surpass your expectations.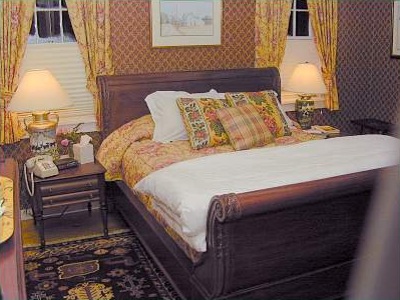 Breakfast
Breakfast is served when you want it. We offer a lavish buffet for early risers from 7:30AM and then a choice of hot entrees from 8 to 10AM. The buffet is stocked with homemade scones and pastry, fresh fruit, the chef's special homemade Granola, fresh squeezed juice and hot oatmeal in the Winter. Entrée choices might include poached eggs with smoked salmon and polenta or a baked French toast served with Vermont Maple syrup with maple cured bacon on the side.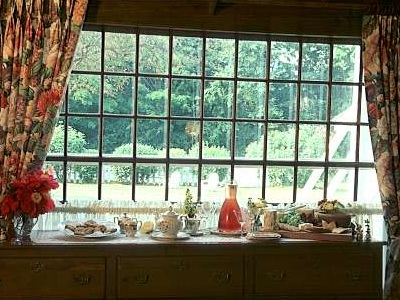 Dining
A recent article in Vermont magazine says it best: "At most notable country inns, good food is a major draw, and the Three Mountain Inn is no exception. Chef Hollinger, who is too tall to walk through the inn's 18th-century doorways without ducking, creates a new menu every day, depending on what is available from his purveyors in the Vermont Fresh Network. The Innkeeper posts the day's menu on his website every morning. (We) were offered, to begin, vichyssoise, marinated conch salad, heirloom tomato tartare or country-style paté. We choose the cold soup, which is creamy and wonderful. The mixed baby greens that follow cleanse the palate perfectly in anticipation of the evening's entrées: roasted loin of venison with a bercy rouge sauce, tournadoes of Black Angus beef with Sauce Béarnaise, seared Ahi tuna with marinated cucumbers, pan roasted breast of chicken with a light horseradish sauce, Atlantic grey sole steamed in parchment or a chick-pea curry in ginger sauce. Our dinners, beef and venison, are exactly medium rare, the meat soft enough to melt in a warm room, the sauces subtle and delicious. We finish strong, my husband with chocolate mousse and me with a blueberry gratin.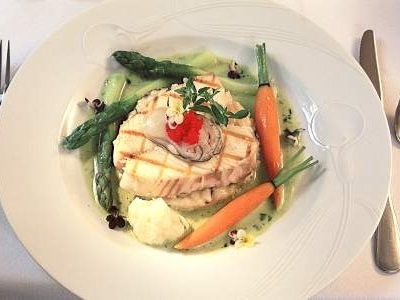 Local Attractions
The Three Mountain Inn is near the base of Stratton Mountain Ski resort. The Inn is set in the center of the small town of Jamaica, which remains rural in charm and character despite its close proximity to the resort. It is a town that attests to the true romance of Vermont, surrounded by woods, pastures and mountains. Best of all, however, for many of the Inn's guests, is the Three Mountain Inn's proximity to the entrance to Jamaica State Park which is located just a short walk, bike, hike or ski down the street from the Inn. Ten kilometers in all offering dramatic vistas of high ledgy mountains that drop precipitously into the valley below.
Of Special Interest
Our hand-built fieldstone swimming pool, complete with trickling fountain.