Thomas Shepherd Inn
PO Box 3634
300 W. German St.
Shepherdstown, WV 25443
304-876-3715
888-889-8952
304-876-3313
Price Range: $89 - $155

Nestled in the beautiful lower Shenandoah Valley along the Potomac River, the Thomas Shepherd Inn Bed and Breakfast is a place where life slows down long enough for you to enjoy it. Walk to wonderful restaurants and unique shops from our convenient location in downtown Shepherdstown, in the Eastern Panhandle of West Virginia. For a relaxing getaway, nap in your cozy feather-topped bed or read in our comfortable living room or porch. Our homemade full breakfast will start you on a fabulous day of fun in the Shepherdstown, WV area.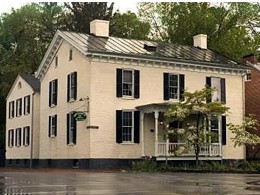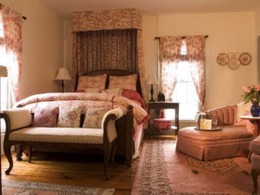 Accommodations
Filled with homey touches, our comfortable guest rooms will make you feel as if you are visiting your favorite great-aunt. The original hardwood floors in the house have been lovingly maintained. You'll find beautiful oriental rugs and lovely wardrobes throughout the upstairs, along with a guest lounge equipped with phone, refrigerator, ice maker, and an extensive library of books and magazines. Our spacious living room on the first floor welcomes you with an inviting gas fireplace, television and DVD/VCR, videos, game table, and sherry. We enjoy central air-conditioning in the warm weather. For those of you who travel with your laptops, we have a wireless network in the Inn. For your convenience, each guest room contains: * Alarm clock/radio with soothing nature sounds * Chocolates by the bedside * Both hypoallergenic and feather pillows on the bed * Cozy comforters and feathertops on all beds * Makeup removal washcloth * Water glasses and bottled water * Bar soap, hand soap, shampoo and bath gel * Hair dryer Please note, to aid you in "getting away from it all", there are no televisions or telephones in the guest rooms. Inn policies are listed below the room details.
Breakfast
As part of the hospitality at the Thomas Shepherd Inn B&B in Shepherdstown, WV, we are pleased to offer you a full breakfast in the morning along with beverages and biscotti for early risers. Our full breakfasts consist of a fruit course, an entree, and fresh baked goods. Guests have recently enjoyed hot apple soup with a mushroom/cheese omelet and local sausage patties with sour cream coffee cake; another morning's menu consisted of fresh fruit with homemade lemon Waffles at the Thomas Shepherd Inn creme and blueberry-pecan French toast with crisp local bacon and poppyseed muffins. We are happy to accommodate special diets or food allergies - just let us know what your needs are when you make your reservation. Our breakfasts are typically served family style from 8:30 a.m. to 9:30 a.m. but if your schedule requires special arrangements please let us know and we'll do our best to work with you. Early beverage service (coffee, tea or decaf) with our signature spice biscotti is available at 7:00 a.m.
Dining
Stone Soup Bistro 112 W. German St. 304-876-8477 Our newest great little restaurant. Open for lunch and dinner, with delicious soups, sandwiches, salads, appetizers and entrees using the best ingredients (vegetarian and vegan available). Full bar. Reservations are suggested. Closed Tuesdays. (www.stonesoupbistro.com) Three Onions 121 E. German St. 304-876-8000 First class entrees and unique pizzas made in their wood-fired stove are served in a up-scale but informal atmosphere. Excellent wine list and beers on tap along with an extensive martini menu. Reservations are suggested, especially on weekends. Closed Mondays and Tuesdays. (www.threeonions.com) Yellow Brick Bank 201 E. German St. 304-876-2208 The YBB serves excellent American and northern Italian specialties. They have an extensive wine list and a good beer selection. Reservations are suggested, especially on weekends. (www.yellowbrickbank.com)
Local Attractions
The B&B is only minutes away from Civil War landmarks such as Antietam Battlefield and Harpers Ferry and outdoor activities like hiking on the Appalachian Trail, biking on the C&O Canal Path or water fun on the Potomac River. Come for any of the many fairs and festivals in the area, like the Contemporary American Theatre Festival or the Mountain Heritage Arts & Crafts Festival.