The Swag Country Inn
2300 Swag Road
Waynesville, NC 28785
828-926-0430
800-789-7672
828-926-2036
Price Range: $400 - $725

The award-winning Swag Country Inn is a paradise for nature lovers who seek the finest amenities in a romantic and natural setting. We're a high country retreat nestled on 250 acres with a private entrance into Great Smoky Mountains National Park. Built out of century-old hand hewn logs and located atop a 5,000 foot mountain, the Great Smoky Mountains National Park is just a step beyond our backyard. Originally designed as a family and spiritual retreat by owners Dan and Deener Matthews. We offer luxurious rooms, wonderful food, interesting conversation, and a range of remarkable experiences.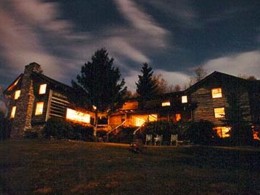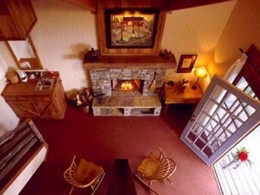 Accommodations
Guest rooms and private cabins are all individually decorated with handmade quilts, woven rugs, early American rustic antiques, and original artwork. Many rooms feature private balconies, fireplaces, and steam showers.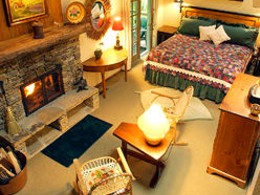 Dining
Meals at The Swag are both social and delectable experiences. It is not unusual for lasting friendships to be forged while guests feast on our gourmet cuisine!At dinner, the mood is elegant, yet relaxed. Our delicious cuisine is served with flair in the candlelit dining room. Vegetarian and special diet meals are available upon request.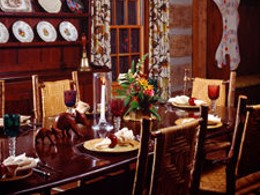 Local Attractions
Hike on The Swag's two and a half mile nature trail, or in the Great Smoky Mountains National Park's extensive system of trails.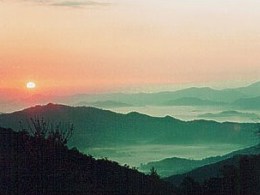 Of Special Interest
There are certain experiences in life that cannot be duplicated. Sitting before a breath-taking view on a porch above a garden in full bloom. Walking along moss-lined trails, beside azaleas and underneath 20' blooming rhododendron that span overhead like a cathedral ceiling. Contemplating gentle peaks that poke through rosy morning fog. Wrapping yourself in a hand-woven coverlet, listening to spring showers as you warm your toes and read by firelight.