Spahn's Big Horn Mountain B&B
PO Box 579
Big Horn, WY 82833
307-674-8150
pahn's Big Horn Mountain Bed & Breakfast is located in the Rocky Mountains at the edge of the Bighorn National Forest, which is bigger than some states, and has mountains higher than Yellowstone. The Inn, a towering log home and cozy cabins high on the mountainside in the pines overlooking Sheridan Valley, is 15 miles from Sheridan and Interstate 90 - in the mountains, but just a short scenic drive to town. There are deer and turkeys on the site, and sometimes bears, moose, and mountain lions. Walking trails are on-site and extend many miles into the forest. Hunting and fishing are nearby.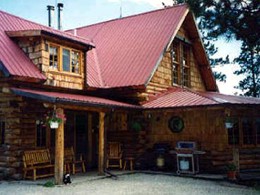 Accommodations
Our premium room with cozy western furniture set off by the warmth of hand-peeled logs and country curtains. Queen bed, twin bed, outside balcony, 100 mile view. Attached private shower bath.
Breakfast
Guests socialize and compare their vacations and their lives with each other and the hosts each morning at breakfast
Dining
Evening dinner is often available. Let us know if you have special dietary or scheduling requirements- we will try to accommodate you.
Local Attractions
Our Bighorn Mountain country is usually passed over hurriedly by first-time tourists- an unexpected looming mountain barrier on the way to Yellowstone- but for those special folks who don't like crowds, condos, and curio shops this has always been a special place.Mountains to explore, Indian wars sites to discover, western lifestyle you thought was gone forever. . . . . and where else can you see one hundred miles from the window!
Of Special Interest
Our rooms and cabins all have queen size beds and all are private bath, and a gracious mountain breakfast is included, hosted by Bobbie and me.You¿ll have a great time meeting new friends from all over the world.