Shiloh Morning Inn
2179 Ponderosa Road
Ardmore, OK 73401
580-223-9500
888-554-7674
580-223-9615
Price Range: $159 - $299

Shiloh Morning Inn is a luxury bed and breakfast located on 73 very private acres halfway between Dallas and Oklahoma City. The perfect place for that romantic getaway, it features five suites in the main house and four cottages. This place of peace and rest is the perfect destination resort. Enjoy a private hot tub, dinners in your suite or cottage, fireplaces, TV/VCR/DVD, stocked mini-fridges at the perfect getaway for just the two of you.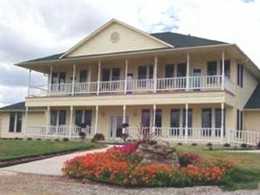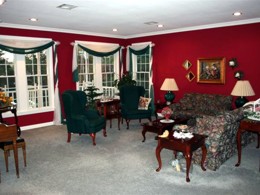 Accommodations
Five unique suites in the main house and four very private cottages, all with king beds, mini-fridges, microwaves, private balcony or deck, jetted tub for two or private hot tub.
Breakfast
A three course breakfast is served each morning in the dining room at tables for two.
Dining
Dinner baskets for private in room dining are available to guests by advance reservation Fridays and Saturdays. These are full dinners delivered and set up in the privacy of your suite or cottage. A light dinner tray is available by reservation any night of the week. It consists of one pound of cocktail shrimp with sauce, a fruit and cheese plate, and sourdough bread, delivered to your suite or cottage.
Local Attractions
Ardmore and Shiloh Morning Inn is surrounded by nature at its finest. Within just a few minutes drive are: Lake Murray State Park, Chickasaw National Recreation Area, Turner Falls, the Arbuckle Mountains, and Lake Texoma State Park. For those wanting to stay inside, it's just a 45 minute drive to one of the largest casinos in the nation. Limited boutique style shopping will satisfy those shoppers.
Of Special Interest
The absolute privacy is the main attraction of Shiloh Morning Inn. Walking trails meander throughout the 73 acres with hammocks and park benches dotted about. Several families of deer call the area home as well as lots of bunnies, squirrels, raccoons, armadillos, wild turkeys, and a resident roadrunner. Thousands of birds and butterflies love the flowers, herbs, fruit trees, and nesting places to raise their young.