Robert Morris Inn
P.O. Box 70
314 N. Morris St.
Oxford, MD 21654
410-226-5111
1-888-823-4012
410-226-5744
Price Range: $110 - $350

Want to stay in the St. Michaels, Oxford, Easton area? The Robert Morris Inn & Salter's Tavern at 300 years old is arguably America's oldest Inn. A unique restaurant & rooms under Chef Proprietor, Mark Salter. Stroll through our delightful town of Oxford, Maryland, an authentic Eastern Shore village, with the riches of the Chesapeake Bay playing a large part in both its history and everyday life. Close to other Eastern Shore attractions-just 6 miles from St. Michaels, 10 miles from Easton and Cambridge, and 20 miles from Tilghman Island-the inn is a peaceful and comfortable base from which to explore Maryland's Eastern Shore.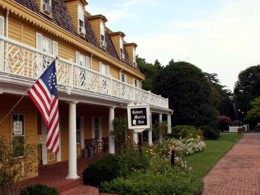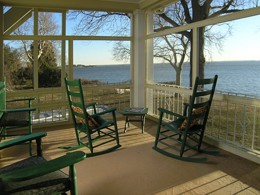 Accommodations
Spectacular sunrises and sunsets combine with great cuisine and service to create just some of the reasons to enjoy a stay at the Robert Morris Inn. Glorious views out over this historic town and to the River and Bay beyond are broken only by diving Osprey and migrating wildfowl.
Breakfast
All rooms include a Full Maryland Breakfast in our Tap & Tavern Room.
Dining
Dining at The Robert Morris Inn with celebrity Chef Proprietor Mark Salter Chef Proprietor and British Master Chef, Mark Salter, brings a modern British approach, combined with classical sensibilities, to the Chesapeake Bay. A Bay resident since 1993, Salter has immersed himself in the region's cooking and seafood bounty. A friend to local farmers, artisan producers and the seasons, Salter turns to sustainability and the richness of Maryland's natural larder for herbs, fruit and vegetables at every opportunity. Salter's Tavern and Tap Room offers a uniquely historic, elegant, yet relaxed setting. A big draw for the sailing community visiting Oxford and locals alike. Great casual dining from a menu featuring many of Chef Salter's signature dishes and popular traditional favourites. Just right for every season, the Tavern features a landscaped courtyard and a magnificent open-hearth fireplace, both perfect for relaxing with friends.
Local Attractions
There is just so much to see and do in and around Oxford and the Eastern Shore. Explore all that Maryland's Eastern Shore has to offer . . . miles of scenic byways and six hundred miles of pristine shoreline.
Of Special Interest
Once the home of Robert Morris who gained fame as "Financier of the Revolution". General and later President George Washington was a close friend and visited Robert Morris often. In more recent times author James Michener outlined his famous novel, Chesapeake here.