The Pillars of Plainfield B&B Inn
922 Central Avenue
Plainfield, NJ 07060
908-753-0922
888-PILLARS
908-753-1091
Price Range: $114 - $250

The Pillars of Plainfield Bed and Breakfast is a restored Victorian-Georgian mansion on a secluded acre of trees and gardens in the Van Wyck Brooks Historic District of Plainfield, New Jersey. The moment you drive through the wrought iron gates you'll know The Pillars of Plainfield Bed and Breakfast is a special place. Surrounding the house are wildflowers, roses, dogwood, cherry trees, and the rhododendrons and azaleas for which Plainfield is famous.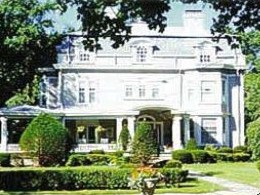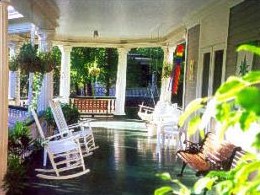 Accommodations
We take special pride in our beds, both mattresses, down comforters and fine linens. All rooms have private phone with voice mail, inroom coffee service, extensive amenities, business/work center, and turn-down service. Our premium suites have "Charisma" linens, canopy beds, fireplaces, VCR, digital cable with 381 channels, and very large bathrooms with old fashioned soaking tubs and shower combined.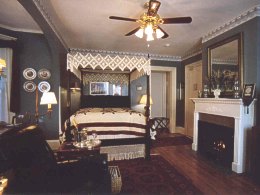 Breakfast
The dining room, where hot and cold dishes are served at every morning's full Swedish breakfast, says "welcome". With a changing menu tailored to the dietary needs and wishes of the day's guests - vegetarian, heart-healthy, and some kosher - just a few of the ways Chuck and Tom let you know you are special.The Pillars Bed and Breakfast is clearly geared to serve the Business Traveler- with breakfast starting at 4:30 AM (or earlier) if that's what you need!
Dining
One of the spectacular features of our house is the windows. Both the living room and dining room have very large bays with six oversize windows in each, plus additional windows in the dining room. The sun shines brightly through colored glass displayed everywhere. Then the living room and foyer have exceptional beveled and leaded glass, and the kitchen has six large unique leaded glass designs. This house is unique among Victorians for being unusually light, bright, and airy.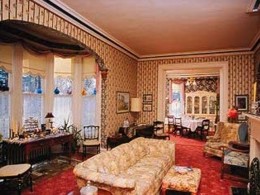 Local Attractions
Besides the convenience of getting on and off the New Jersey Turnpike and Garden State Parkway, our guests come for the Newark Liberty International airport, to visit New York City, the Statue of Liberty, Ellis Island and Liberty State Park, the Meadowlands, Thomas Edison historic sites, Revolutionary War sites, Rutgers and Kean Universities, and for hiking, horse back riding, and outstanding shopping at the Short Hills Mall. We are on a commuter train line into NYC. And our location in the "backyard" of many corporate offices makes us ideal for the business consultants here to serve those businesses. We stress service to the business person and flier with breakfast "as early as you want it".
Of Special Interest
Each year there are major improvements in the yard and gardens. In turn, there is a tremendous upsurge of interest from couples planning weddings and receptions, as well as anniversary parties and showers. In July 2000 The Pillars of Plainfield Bed and Breakfast easily hosted a garden party for 750 guests. Brides say that they have visited all the "wedding factories" and want something more personal and private. The Pillars of Plainfield Bed and Breakfast is the setting they are seeking.