Pecan Valley Inn Bed and Breakfast
P.O.Box 155
Hwy 7, 1 1/4 mi. west of I-35
Davis, OK 73030
(580) 369-3366
(866) 369-3366
(580) 369-3366
Price Range: $99 - $205

A unique Oklahoma Victorian mansion is now a romantic bed and breakfast getaway near Davis, Sulphur and Ardmore, Oklahoma. Nestled between Wildhorse Creek and Turner Falls Park in the North foothills of Oklahoma┐s Arbuckle Mountains, Pecan Valley Inn Bed and Breakfast invites you to experience southern hospitality in our 1898 Victorian home on a 2,500-acre estate. Lovingly restored to its former 'mansion of the area' elegance, the Indian Territory doctor's home features comfortable furnishings and inviting views from the porch beckoning you to explore.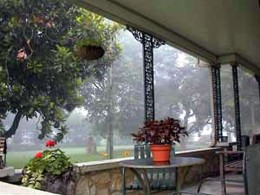 Accommodations
Whether you spend the day relaxing on the wraparound porch of the bed and breakfast, hiking and mountain biking on the ranch, horseback riding and exploring Chickasaw National Recreation Area, antique shopping at nearby Davis and Sulphur, touring the Arbuckle Mountains, or swimming at Turner Falls Park, your guestroom is your haven of peace and privacy. Plush robes, specialty soaps, deep soaking tubs, and Southern hospitality pamper you in the quiet of the rural Oklahoma countryside.
Of Special Interest
Enjoy the seasonal outdoor activities such as picking blackberries or pecans or maybe feeding a baby calf. There are fishing ponds stocked with bass and catfish and what a spot to see the sunrise or sunset! You may be so fortunate as to see a turkey or deer while hiking through the ranch or on the walking trails in the wooded areas around the house.