Pearson's Pond Luxury Inn Adventure Spa
4541 Sawa Circle
Juneau, AK 99801
907-789-3772
888-658-6328
Price Range: $139 - $499

Juneau Alaska's Pearson's Pond Luxury B&B Inn and Adventure Spa was rated a #4 World's Most Romantic Hotel Destinations. With its casual elegance, full complement of amenities, services, and beautiful setting, this mini-resort is the perfect lodging accommodation and destination for Adventure Travel & spa vacations, business travel, weddings, honeymoons and romantic getaways, especially if you love nature, scenery and wildlife. Lots of public areas to relax and enjoy indoors and out.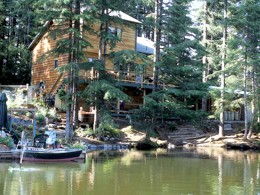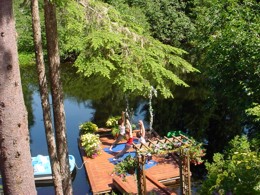 Accommodations
Waterview, garden exterior entries, private kitchenette with housewares, bath, fireplace, 4 poster bed, robes, slippers, dryers, tv, wi-fi, hi-end bath amenities. Premium queen beds and linens. Quiet and private. Perfect for adventure vacation, business travel or or honeymoon. Decks lead to dock, hot tubs, campfire, gazebos, waterfall, kayaks, bikes, etc.
Breakfast
Flexible self-serve breakfast year round anything you want to prepare, and eaten anytime you wish from public stocked kitchen and breakfast room - perfect for early and late risers and private folks. Plus you have your own kitchenette too. In summer, hot entree provided mid-morning as well.
Dining
Fine dining at Gold Room about 15 minute drive. Many casual dining within 3 to 10 minute drive or short bike ride. BBQ and cooking facilities and dining room on-site at inn for self-prep
Local Attractions
World famous, drive-up Mendenhall Glacier and visitor center is less than 2 miles from inn. Glacier Bay departures are 8 minutes, Inside Passage orca and humpback whale watching, fishing, wildlife and bear viewing just a few minutes from the inn. Gold mine historic district within 10 minutes. Inn is right in the center of the recreational area. Dozens of walking, biking and hiking trails just moments from the inn.
Of Special Interest
Spectacular scenery of glacier, forest, mountains, water, gardens. All guest and public decks lead to dock, hot tubs, campfire, yoga area, gazebos, gardens, waterfall, kayaks, bikes, etc. 4 Wedding venues on-site, plus glacier and wilderness weddings. Wedding, honeymoon and adventure packages. On-site planner.