The Oliver Inn
630 W. Washington St.
South Bend, IN 46601
574-232-4545
888-697-4466
574-288-9788
Price Range: $85 - $329

The Victorian romance of The Oliver Inn Bed & Breakfast reflects the lives and times of South Bend's most famous families, the Studebakers (wagons & automobiles) and the Olivers (the world-famous Oliver Chilled Plow and tractors). While Clem Studebaker was busy in August of 1880 building the foundation for his castle/home, "Tippecanoe Place", James Oliver acquired the adjoining property. Here he built a spacious 10,000 sq. ft. "Queen Anne" style home and had it gifted along with its one acre grounds to his daughter, Josephine Oliver Ford, for "$1.00 and LOVE."
Accommodations
This lovely Victorian 25 room mansion was built for entertaining. The lower level contains a dining room with original Waterford crystal sconces and a butler's pantry with complimentary refreshments. Also available is a large and cozy library with one of seven fireplaces, and a baby grand piano with computerized piano disk system. Guests may choose from one of nine large and beautifully decorated guest rooms, some with fireplaces, private balcony, claw foot tubs, marble sinks or Jacuzzi, all but two with private baths. The Bavarian style Carriage House is an archetectural gem, totally unique to the area and has been newly renovated into a two bedroom, two bath suite.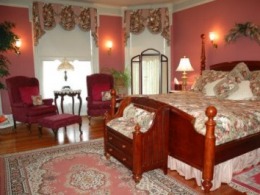 Breakfast
Oliver Inn guests enjoy a full gourmet candlelight breakfast each morning in our dining room, in front of the fireplace.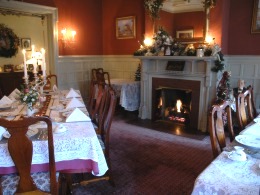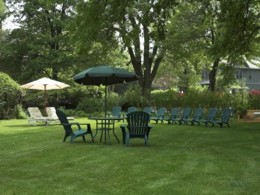 Of Special Interest
Relax on our one acre, beatifully manicured estate, complete with gardens, lawn swings, a gazedo, and fountain.