Notchland Inn
US Route 302
Hart's Location, NH 03812
603.374.6131
800.866.6131
603.374.6168
Price Range: $195 - $310

Get away from it all, relax & rejuvenate at our comfortable granite manor house, completed in 1862, located on a 100 acre estate within the White Mountain National Forest. Settle into one of 14 spacious guest rooms, each individually appointed & all but one with woodburning fireplaces. Notchland¿s wonderful 5-course dinner & full country breakfast are served in a fireplaced dining room overlooking the pond & gardens.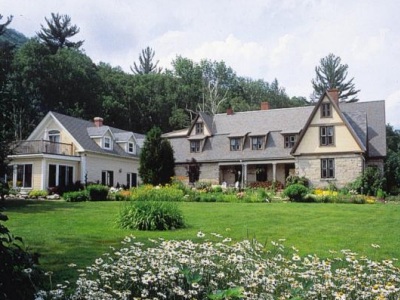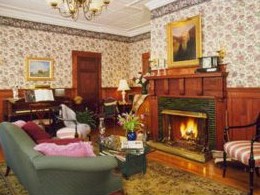 Accommodations
Notchland¿s accommodations fall into 4 categories: seven Deluxe Rooms, three Suites, three Premium Suites, and River View, which is a lovely woodland house near the main inn property. Each space is quite large and individually decorated, in an elegant but comfortable style that encourages relaxation. All rooms except River View have woodburning fireplaces. The Premium Suites and River View also have large whirlpool tubs and private decks.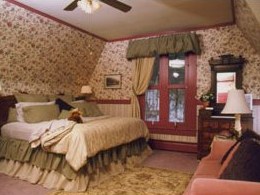 Breakfast
Morning brings a bountiful country breakfast to fuel you for the adventures of the day. Fresh fruit, your choice of juice, and hot beverages will start you off. Then, choose from eggs almost any style, 4 kinds of pancakes, 3 kinds of French Toast, Notchland¿s own granola, hot and cold cereals, yogurt, toast and English Muffins. Have as much or as little as you like.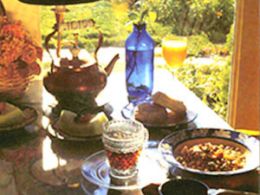 Dining
In the evening, Notchland¿s wonderful 5-course dinner is served, in a single seating at individual tables, in a romantic, fireplaced dining room looking out to the gazebo by our pond. Our Chef creates a new menu each day. There are always tempting choices: 2 Soups, 2 Appetizers, 3 Entrees, Salad and 3 Desserts. Her elegant flair respects the traditional while exploring the excitement of international cuisines. A selection of wines, beers, spirits and cordials complements our menu.
Local Attractions
The White Mountain National Forest, comprising some 270,000 acres, is the biggest attraction in our area. It provides amazing and nearly-endless opportunities for hiking, bird-watching, rock- and ice-climbing, swimming, fishing, mountain-climbing, snowshoeing, down hill & cross-country skiing. And it provides all that in the midst of extraordinary mountain and forest views, secluded glades, and towering waterfalls. Notchland is completely surrounded by this national forest. And don¿t forget the shopping opportunities! North Conway, just 20 miles away, was one of the first areas in the country to offer outlet shopping. In addition to the many outlet opportunities there are great arts & crafts and antique stores and art galleries.
Of Special Interest
Coco & Abby, our Bernese Mountain Dogs, attract almost as many guests as does the availability of the great outdoors. With their distinctive beauty, their charming dispositions, and their sweet affability, the ¿girls¿ have made friends from all over the world, and have won over even those guests who thought they didn¿t like dogs. They¿ll greet you with resounding cheer and wagging tails and keep you company throughout your stay. Abby may even hike the Notchland Trail with you, which takes you to a promontory behind the Inn with breathtaking views of Mount Washington and the Crawford Notch valley.