Morgan Samuels Inn
2920 Smith Road
Canandaigua, NY 14424
(585)394-9232
(585)394-8044
Price Range: $119 - $295

Travel the 2,000 foot tree-lined drive to the secluded 1810 English style mansion and sense the difference between ordinary and legendary. The Inn sits like a plantation on a rise surrounded by 46 acres. Relaxing patios, trickling waterfall, acres of lawn and gardens canopied by 250 noble trees. Three rooms with French doors and balconies, 11 fireplaces. Tea room with stone wall and 16-foot glass windows, pot-bellied stove. Library, common room, large enclosed porch/dining room, four Jacuzzis, museum quality furniture, oil paintings.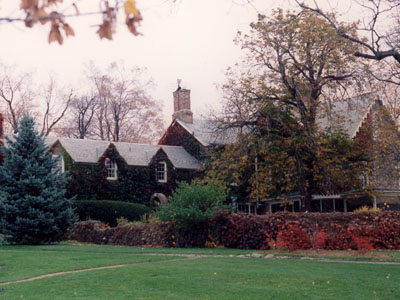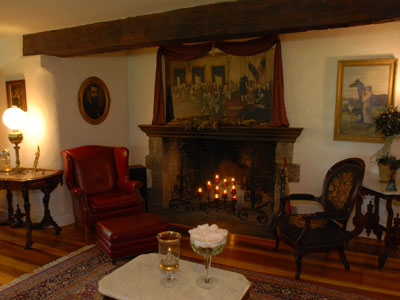 Accommodations
The Victorian Room (shown here) is just one example of our 9 rooms. It offers hand painted camelback ceiling, king bed with tapestry coverings and canopied headboard. There are French doors leading to a private balcony there's also an archway that leads to a 19' bath and double Jacuzzi surrounded by marble and a 1810 stone wall. Green marbled sink on brass pedestals with hardwood floors can also be seen.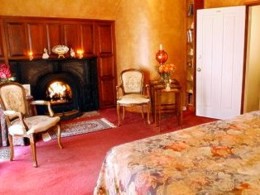 Breakfast
The Morgan Samuels Inn breakfasts are a most memorable part of your stay. Our breakfast recipes have been featured in "Bon Appetit" and "Get-a-Way for Gourmets". Enjoy the smell of fresh brewed coffee, crackling fire in the fireplace and sit down to a full candlelit gourmet breakfast. We start with a fresh fruit plate featuring 25 to 30 fresh and dried fruits with a house cream sauce to drizzle over the fruit. While you are enjoying the frui we give a verbalized menu featuring our unsurpassed open faced Garden and Greek Omlettes, Herbed Scrambled Eggs, Buckwheat Pancakes or Monk's Bread French Toast. A selection of grilled meats are avialable to included our own Country Sausage, imported smoked Canadian Ham, or thick bacon. Before your entree is served a fresh hot homemade branberry muffin is served. Guests often comment saying this is a "no lunch breakfast"!
Dining
Dinner is provided on a pre fixed basis when we have eight or more guests who have requested to have diner at the Inn.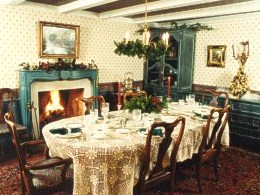 Local Attractions
Morgan Samuels Inn is located in the heart of the Finger Lakes Wine Region with featured Wine Trails on each of the major Finger Lakes. Wine tasting is available on a daily basis from 10 am to 5pm. The New York State Wine and Culinary Center is also located 5 minutes from the Inn a must see stop.
Of Special Interest
Morgan Samuels offers acres of landscape with gracious gardens, beautiful patios, and exquisite fountains. It's the perfect place to relax and drink in the natural beauty of the grounds.