The Mast Farm Inn
2543 Broadstone Road
P.O. Box 704
Valle Crucis, NC 28691
828-963-5857
1-888-963-5857
828-963-6404
Price Range: $125 - $255

More than a bed and breakfast, The Mast Farm Inn offers inn rooms, private cottages, fine dining and great wines, organic gardens, and unique gifts. The inn has been welcoming guests since the 1800s and while there have been improvements ¿ like tubs-for-two, air conditioning, contemporary organic cuisine and fine wines ¿ the hospitality remains the same, attentive and sincere. Come make yourself at home. Choose from eight spacious guest rooms or seven romantic getaway cottages. Stroll the grounds amidst our organic flower, vegetable, and herb gardens. Enjoy dinner in our restaurant, which features creative Contemporary Regional Cuisine and fine wines. Relax with a glass of wine and appetizers in our new Aunt Josie's Espresso and Wine Bar. Selected by Travel & Leisure (June 2000) as one of their 10 favorite B&Bs in the country.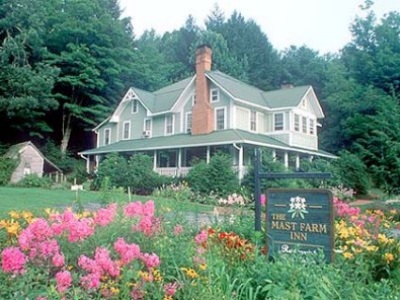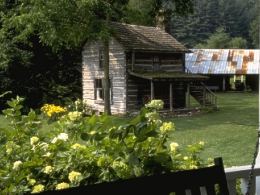 Accommodations
Offering a wide range of accommodations, you are sure to find the one perfect for your romantic getaway or family gathering at The Mast Farm Inn. Choose from eight individually appointed guest rooms in our 1880s farmhouse or seven private cottages, where we welcome children of all ages. Our cottages range in age and style from our 1812 log cabin, the Loom House, to two newly built rustic cottages secluded in the pine woods. Our Granary and the new favorite Raspberry Hill offer sleeping for up to six guests and great views across the valley from their spacious decks. See full descriptions and pictures of each accommodation on our Web site or give us a call and let us help you select the right one for your visit.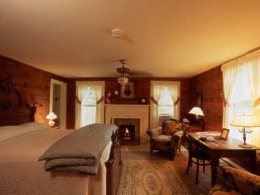 Breakfast
Guests seat themselves for breakfast in one of our wood-paneled dining rooms or on the terrace. A range of times are offered for your convenience and and private tables ensure your comfort. A hot two-course breakfast is served each morning. Breakfast might start with a hot strawberry muffin or fruit and yogurt. Entrees range from Mast Farm Inn three-grain pancakes, featured in our cookbook, to a gourmet presentation of asparagus crepes to a hearty country breakfast of biscuits and sausage gravy. Coffee service is available either in your cottage or a coffee basket is delivered to your door before breakfast.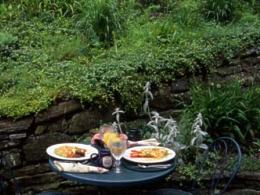 Dining
Enjoy the romance of fireside or terrace dining and the convenience of outstanding regional cuisine and fine wines available at the inn. Our restaurant features farm fresh, organic produce and meats presented in a contemporay style. Chef Ed Winebarger's creative, healthful menu is new each season. And we now offer drinks before or after dinner in Aunt Josie's Espresso and Wine Bar, featuring a selection of wines from North Carolina and around the world, micro and old-world beers, and your favorite coffee beverages with natural flavors if you wish. Our dinner schedule varies seasonally. Reservations are suggested. Private parties by special arrangement.
Local Attractions
The scenic beauty of the Blue Ridge Mountains, so easily accessible from the Blue Ridge Parkway, is one of the main reasons to visit our area. Along with scenic beauty come the innumerable hiking trails and water adventures to be enjoyed in the great outdoors. The area also offers shopping excursions, well worth the trip, for quality antiques and mountain crafts, diverse art treasures, flea market finds, and outlet bargains. Numerous galleries can easily fill a day's outing and the many fine dining establishment, the inn among them, have made the High Country a North Carolina dining destination. After several days in the High Country, you'll leave with a list of what to do next time you're here.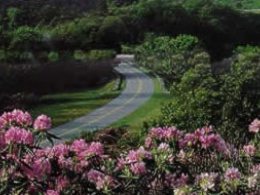 Of Special Interest
Our porches, terrace, and organically grown gardens are our main attraction on site. Vegetables, herbs, and flowers from our own gardens grace out tables. Enjoy them from a rocker on the front porch or take a stoll down to the river or back by the pond before breakfast or after dinner.