1851 Historic Maple Hill Manor B&B
2941 Perryville Road
US 150 East
Springfield, KY 40069
859-336-3075
1-800-886-7546
859-336-3076
Price Range: $100 - $179

Thomas Irvine McElroy built this beautiful Greek Revival Plantation Home on nearly 600 acres and presented it as a Wedding Gift to his young bride, Sarah Jane Maxwell. Lavished with numerous architectural features, it is accented with Italianate detail, spans over 7,000 sq. ft., with 14' ceilings, 12' doorways, 9' windows, 13 original rooms - most are 20' x 20' with some even larger, and a grand cherry floating spiral staircase. Its colorful past includes stories of an Antebellum Plantation, use as a Civil War Hospital, the Childhood Home to Phil Simms - former NY Giants Quarterback and Super Bowl XXI's MVP, a popular Dinner Hall, and Children's Home. Today it is an award-winning Bed & Breakfast, Wedding/Special Events Showplace, Alpaca & Llama Farm, and Handcrafted Gift Gallery.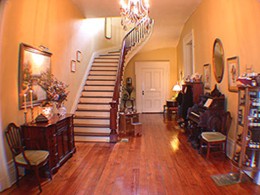 Accommodations
Maple Hill Manor is an elegant and charming Plantation Home featuring seven, spacious antique-appointed guest rooms. Each room has a private bath with some having upgraded amenities such as a fireplace adn Jacuzzi for two. Rooms are private and quiet, as the walls are 18 inches brick thick. The 9' windows allow for extra natural lighting, cool breezes, adn spectacular views of the rolling bluegrass countryside which surround this country estate. Enjoy the tranquil country setting, views of the 3,000 acre race horse farm on one side and a 300 acre tobacco and beef farm on the other. The local Agritourism Farms offer a wide variety of attractions as well: Horse Riding, U-Pick, Wineries, and much more. Special Amenities: 7 Spacious Smoke-Free Guest Rooms 7 Private Baths Antique-appointed Furnishings Large Beds w/ Luxury Linens Full Country "Gourmet" Breakfast Homemade Desserts/Refreshments Hot & Cold Beverages available 24-hours Jacuzzi in some rooms Fireplace in some rooms Air Conditioning & Ceiling Fans TV/VCR/DVD in some rooms Large Screen TV/VCR/DVD w/ Movies in Parlor Games, Magazines, Newspapers Soaps, Toothpaste, Make-up remover tissues Candles, Reading Lights, Antique Oil Lamps Radio/CD Player/Alarm Clock WiFi - Wireless Internet Access
Breakfast
Our rates include Homemade Dessert each evening and Full Country "Gourmet" Breakfast each morning... Sample Menu: Coffee, Tea, and Juice Fresh Fruit and Homemade Muffins Croissant French Toast, Omelets, Bacon or Sausage, and Hashbrown Casserole Assorted Maple Hill Manor Jams, Jellies, Sauces, and Syrups (also available for purchase from our Gift Shop - which make ideal mementos of your trip or as Thank You Gifts for those at home!) Seasonal Fruit is often used and available from our 100+ Fruit Orchard, 200+ Raspberry Patch, Grape Vineyard, or Blueberry Patch
Dining
Request a Private, Romantic Candlelight Dinner at the Inn ($65/couple and based on limited availability). Also, there are several excellent restaurants from which to choose (all within a 30 minute drive): www.springfieldky.org/restaurants.shtml www.visitbardstown.com/tourism/index.html www.lebanonky.org/restaurants.html www.harrodsburgky.com/restaurants.htm www.danville-ky.com/BoyleCounty/restaurants.html We recommend the following in each town: Springfield - Mordecai's on Main (All American with Southern Flair), Los Mariachas (Mexican), China Buffet (Chinese) Bardstown - Xavier's (Gourmet), Kurtz's (Southern), Kreso's (European), Dagwood's (Bourbon Specialties), and Stephen Foster Restaurant (Southern Buffet) Lebanon - Henning's (Steak & Seafood), Blues on Tap (Live Music with Weekly Dinner Specials) and Fergie's (Steak & Ribs/Sports Bar) Harrodsburg - Shaker Village (Southern/Family Style), Beaumont Inn (Southern), Cloud's (Southern Cooking) Danville - Freddie's (Italian), O'Charlies (All American), Applebee's (All American), Reno's Steakhouse, China Buffet, and many more
Local Attractions
Nearby Kentucky Bluegrass Attractions My Old KY Home, Stephen Foster Musical, My Old KY Dinner Train - Historic Bardstown Shaker Village, Fort Harrod, Legend of Daniel Boone Outdoor Drama - Harrodsburg Civil War Battlefield & Museum, Elmwood Inn/High Teas - Perryville Abraham Lincoln's Birthplace National Museum - Hodgenville Lincoln Homestead State Park & Golf Course, St. Catharine College - Springfield Other Popular Attractions to Enjoy during your stay... Historic Bardstown Stephen Foster - The Musical My Old Kentucky Dinner Train Maker's Mark Distillery Shaker Village at Pleasant Hill Washington County's Numerous Attractions & Activities Lincoln Homestead State Park and Golf Course My Old Kentucky Home Perryville Civil War Battlefield Gethsemani Monastery Old Fort Harrod Elmwood Inn High Teas Civil War Museum Kentucky Railway Museum Abraham Lincoln Birthplace Bernheim Arboretum and Research Forest Mammoth Cave Horse Racing Kentucky Derby/Derby Museum Green River Lake State Park Taylorsville Lake State Park Kentucky Horse Park Pioneer Playhouse Horseback Riding Antique Shopping Wineries/Vineyards Farm Tours: Horses, Sheep, Pick Your Own Fruits & Vegetables, Nurseries, and more! Willisburg Lake & Marina
Of Special Interest
Weddings, Spa Services Available, Orchard, Small Grape Vineyard, and Fiber Farm Store & Studio.