1858 Magnolia Mansion
2127 Prytania St.
New Orleans, LA 70130
504 412 9500
504 412 9502
Price Range: $250 - $500

Magnolia Mansion NAMED ONE OF 2007 TOP 10 ROMANTIC BED AND BREAKFAST & COUNTRY INNS BY American Historic Inns, Inc., publisher of more than 2.5 million bed & breakfast guidebooks. Magnolia Mansion Bed & Breakfast as Featured on: The Today Show, NY1 News, & Channel 10 Syracuse NY News. Experience the grandeur of old New Orleans. Imagine surrounding yourself in peaceful luxury, as you slip back in time, at Magnolia Mansion, built in 1857-1858. Massive live-oaks frame the Mansion's beautifully landscaped grounds. Magnolia trees and flowers perfume the air surrounding an impressive and immense courtyard. With eleven phenomenal Corinthian columns and a double-galleried balcony makes this Mansion one of the most photographed architectural treasures of New Orleans. From the moment you enter the spectacular hall of this raised Greek-revival Mansion, and are greeted by larger-than-life sculptures of Eros and Aphrodite, the Greek deities of love, you realize fantasies can come true.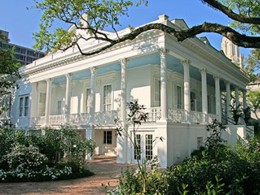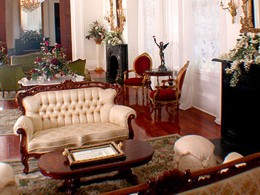 Accommodations
All rooms are romantically themed in elaborate decor, gorgeous window dressings with Austrian Sheers and black-out curtains and beautiful hardwood floors. All are provided with plush bed coverings and linens, private baths, cable TV, VCRs, ironing board & iron and alarm-clock radios. For your convenience, each newly renovated bathroom is equipped with its own hairdryer, bathrobes, night-light, and a magnified makeup mirror. Included in your stay, is a complimentary continental breakfast, wireless internet, highspeed internet in our common areas, and free local telephone calls. A complimentary video lending library is available 24 hours.
Breakfast
Our resident ghost (excuse us, host) will greet you in the dining-room each morning with a complimentary continental breakfast. This breakfast includes a selection of coffee, hot teas, orange juice, milk, fresh fruits (apples, oranges, and bananas), assorted pastries such as donuts, cinnamon rolls, and pecan rolls, a selection of Bagels, English Muffins, breads, and of three types of cereals.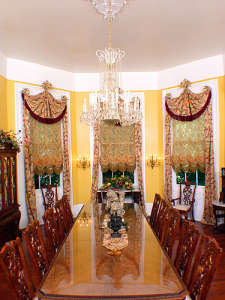 Local Attractions
This B&B is centrally located uptown and considered to be "The Gateway To The Garden District", It is just one block from the St. Charles Streetcar, Mardi Gras Parade Routes, and only minutes of the French Quarter, five star restaurants such as Commander's Palace and Emeril's Delmonicos , the Convention Center, our beloved Cemeteries, the Mississippi River Paddlewheels , Major Attractions, the Superdome and Shopping.
Of Special Interest
Magnolia Mansion is one of New Orleans most photograped and treasured Historic Garden District Homes. The Greek Reviavl Mansion boasts eleven massive Corinthian Columns surpporting an enormous wrap around veranda. Eight Massive Oak Trees frame the Mansion and the beautifully landscaped courtyards and grounds. Enjoy lingering for hours on the wrap around veranda or in our Pardi Gras Courtyard with other guests or a good book as the smell of jasmin, gardinas & magnolias fill the air. Indulge yourself each evening (or morning) by lounging in any of the three magnificent parlors, also available for weddings and gala events. Sit or mingle beneath magnificent crystal chandeliers, surrounded by luxurious antique furniture and tranquil elegance, as you sip a refreshing beverage.