Loganberry Inn Inc.
310 West Seventh Street
Fulton, MO 65251
573-642-9229
888-866-6661
573-642-3146
Price Range: $89 - $189

Loganberry Inn is located in Historic Fulton, Missouri voted one of the top 10 places to visit in the Midwest. Fulton is just 5 minutes from I-70 between Kansas City and St. Louis. Loganberry Inn is a nationally recognized award-winning Inn. It is a grand Victorian built in 1899. Many renowned guests including Margaret Thatcher, Scotland Yard detectives, and Polish President and Nobel Peace Prize winner, Lech Walesa, have chosen to stay at Loganberry Inn.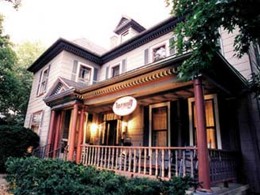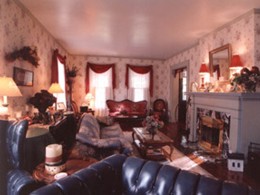 Accommodations
Located in the historic district, the Inn is strolling distance to downtown Fulton, featuring brick streets, unique antique, art and specialty shops, old-fashioned soda fountain and live Jazz. Many Loganberry Inn visitors prefer to stroll through the charming neighborhoods filled with turn of the century homes or walk to Fulton's delicious and creative restaurants or art museum. The Katy Trail is also easily accessible for a day of hiking or biking or watch the sunset at the Winery
Breakfast
At Loganberry Inn you start your day with a full gourmet breakfast. Every morning brings new treats. Begin with a fruit course such as Maple Baked Apples or Cinnamon Pears with Raspberry Coulis. You have a choice of 10 coffees or 7 types of tea, and several kinds of juice. Next will follow such goodies as: Homemade Granola with Yogurt or Milk, Chili Rellenos Quiche and Ricotta and Orange Blintzes, Crab and Artichoke Frittata and Crunchy Banana Stuffed French Toast, Sausage and Hashbrown Quiche and French Toast Marnier, Eggs Florentine and Carmel-Pecan Waffles, Apple Smoked Bacon and Strawberry Mousse Crepes
Dining
Beks occupies a historical three-floor building in the heart of downtown Fulton, Missouri. Enjoy the chef's creations or Rebecca's, (the restaurant's namesake) fabulous homemaid desserts. The wine and beer assortment is impressive, the ambiance charming and welcoming and the food surpurb. Bek's is in walking distance from Loganberry Inn.
Local Attractions
Visit the Winston Churchill Memorial and Library in the United States at Westminster College. The Memorial is located on the college campus in Fulton, Missouri, the site of Churchill's famous "Iron Curtain" speech. The Memorial was founded in 1969 to honor the life and legacy of one of the greatest leaders of the twentieth century. It is housed within the Church of St. Mary the Virgin, Aldermanbury, designed by Sir Christopher Wren in 1677, that was relocated from London to Fulton. History comes alive in this state of the art museum due to a brand new $4 million renovation in 2006.
Of Special Interest
We provide a serene and elegant setting for your romantic, intimate wedding ceremony and reception. Our aim is a beautiful and sacred event, complete and inexpensive, that relieves you of the stress and work for you and your beloved. The historic 1899 Loganberry Inn with beautiful parlor with fireplace, or our garden with 24 foot wedding gazebo, will provide an elegant background for you to celebrate your special moments. All you need to provide is your wedding clothing, rings and license. You may bring your own witnesses, or we will provide them for you. After you say "I do," you and your guests can enjoy an elegantly presented cake and bubbly reception. Elopement Package Our complete Elopement Package for two includes the following: Minister* Two Witnesses (you may bring your own)* Choice of 3 silk Bouquets to use* Wedding Music on CD* Sparkling Grape Juice or Champaign Toast* Keepsake Crystal Stemware for the Bride and Groom* and Keepsake digital photo on CD. Total Package is $275 Or you may desire our Intimate Wedding Package with up to 50 guests. See our web site for details.