Inn at Crystal Lake
2356 Eaton Road
PO Box 12
Eaton Center, NH 03832

603-447-2120
800-343-7336
603-447-3599
Price Range: $99 - $239

Welcome to the Inn at Crystal Lake located in a breathtaking village in the white mountains with a seriously delicious restaurant offering dining room and pub menus. Please join us at our comfortable bed and breakfast occupying the historic 1884 Palmer House minutes from North Conway all tucked away in an unspoiled lakeside village. Keeping watch over charming Eaton Center, this award-winning, New England inn has quickly become the touchstone vacation destination for service and hospitality in the Mt. Washington Valley.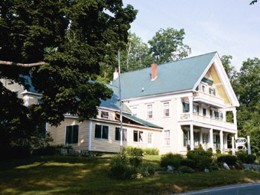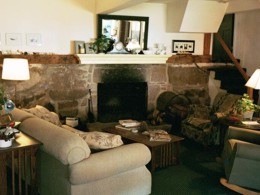 Accommodations
The Inn at Crystal Lake has 12 guest rooms all with private bathrooms, cable/VCR, cd payer, telephone, airconditioning. Each room has been decorated individually with different themes. All of our guests have left great comments in our room guest books saying how special there room is and how they enjoyed our personal touches. Oh, and we hope you will enjoy the plate of home made cookies that we have left you in your room.
Breakfast
The Inn at Crystal Lake serves a home cooked breakfast each moring prepared by the Bobby and Tim the owners of the Inn. We alternate each morning with a sweet and savory theme so that you will have a variety of treats each day you stay. Some of the dishes that are prepared are Cinnimon apple pancakes with real New Hampshire maple syrup, huge bluberry muffins, Mammy's bluberry sourcream cake, egg's florentine, apple bacon quiche. All breakfasts are served with coffee, juice, and assortment of tea and hot chocolate and of course a happy innkeeper to help you plan the best day.
Dining
The Inn at Crystal Lake serves dinner Wednesday through Sunday starting a 5 P.M. We have both a dining room menu and a pub menu with serious delicious items like the famous Tim's chilli, a burger of pulled pork wrap, Beef Tenderlion, Rack of Lamb, Curried Shrimp, Pan-Seared Salmon just to name a few. There are dinner size salads, yummy appitisers and great desserts. Stephen Golder is the Cshef at Tthe Inn at Crystal Lake and has created a wonderful menu that is prepared perfectly and compliments our wine list. We have a full bar and a nice selction of beer.
Local Attractions
Eaton Village is located in the white mountain close to all of the activities to make your stay here fun and memorable including; tax-free shopping, the Stone Mountain Arts Center, wonderful restaurants, hiking, biking, fishing, kayaking, swimming and canoeing, downhill and cross country skiing, snowshoeing, snow tubing, ice skating . Travelers have been visiting the white mountains for hundreds of years, become part of history and enjoy some of the same activities they enjoyed.