Inn at 2920
2920 Elliott Street
Baltimore, MD 21224
410-342-4450
877-774-2920
443-874-8971
Price Range: $160 - $265

Inn at 2920, an upscale Bed & Breakfast in downtown Baltimore, provides guests with a unique combination of the old-fashioned and the contemporary. Our comfortable mix of old and new is reflected in the decor of our 3,800 square foot row home as well as in our amenities. Inn At 2920 is located in Canton, one of downtown Baltimore's most exciting neighborhoods. Described in the Baltimore Sun as a cross between Greenwich Village and Key West and located just three miles from Baltimore's convention center and Inner Harbor, Canton is a convenient option for Baltimore visitors. From shopping to gourmet dining, it is all within walking distance when you stay at Inn at 2920. Whether you hope to escape the madness of everyday life for a few days or travel for business and want a substitute for boring corporate hotels, Inn At 2920 will help you achieve your goals. All of our guests enjoy personalized service, luxurious cotton linens in the bed and bath, comfortable beds, and a free gourmet breakfast each morning of their stay. Business travelers will also appreciate the well-lit work space in each room, secure wi-fi access, and early breakfast service.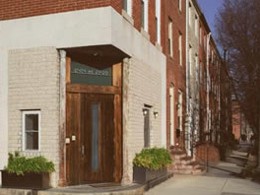 Accommodations
The guest rooms of INN at 2920 are more like a modern boutique hotel and compliment the distinctively contemporary atmosphere that trandscends throughout the Inn. Each guest room has it's own style and unique personality yet features everything expected for a comfortable stay! Features of each Guest Room include: ~Private Limestone tiled Bathroom with Jacuzzi Bathtub* and Shower ~Zero% Toiletries from Gilchrist and Soames and Plush 100% cotton bath linens ~Queen-sized Bed* with comfortable Kingsdown mattress and Hypo-Allergenic High Thread Count Bedding ~Flat Screen HDTV with over 70 channels and DVD/VCR player ~Free WiFi access ~Dual-Alarm Clock with CD/MP3 Player ~A Bottle of Spring Water for each guest ~Hair Dryer, Iron, and Ironing board ~Ceiling fan * Gato Casa suite has a walk-in rain shower only; Bordello Room has a King-sized bed and oversize Jacuzzi tub with shower Consider the Gato Casa for longer stays, buisness trips, or when a third person is travelling. With a full kitchen and living area there's plenty of room to spread out and enjoy your stay! Consider the Bordello Room for your Romantic Get-away. With a King wrought iron canopy bed, oversize jacuzzi, and rich tones, this room is perfect for you and your special someone. Also consider the "INN-Love" package, Baltimore's Ultimate Romance Package...
Breakfast
Sit back and relax - there is no continental breakfast or 'serve yourself' buffet at INN at 2920! Our Guests enjoy a free sumptuous full breakfast prepared and served fresh daily as early as 7:00AM, keeping in mind any special dietary requests or food allergies. Start the day with fresh brewed Zeke's "Hippie Blend" coffee or hot tea, a fruit juice of your choice, and a fresh seasonal fruit presentation with a breakfast pastry or bread. Then we serve a signature full breakfast "fresh from the oven!" Breakfast is served in our Dining Room from 7:00AM to 9:00AM on Monday through Friday and from 9:00AM to 10:00AM on Weekends and Holidays. For guests who are in a hurry but want to enjoy breakfast, we can serve you our full sumptuous breakfast and get you on your way in just 30 minutes! Business Travelers, or those needing to get going early, can be on the road by 7:30AM or can request an "INN and Out" Breakfast Pack to go. Requests need to be made as early as possible the day before.
Dining
Dining options abound within several blocks of INN at 2920 - more than 3 dozen choices! O'Donnell Square is just 1/2 block from the Inn and features an array of restaurants, cafes, pubs and specialty shops. Among those suggested are: Helen¿s Garden Restaurant - O'Donnell Square - Affordable wine, Superb food, Friendly service, very casual environment. Jack's Bistro - Canton - With a tempting menu that pairs common ingredients with uncommon combinations, a rousing wine list, and innovative cocktails, Jack's Bistro assures a passion for detail in a cauaul atmosphere where the food speaks for itself. Baltimore's Best dessert, 2009 - Baltimore Magazine! Pasticcio Italian Kitchen - Canton - Just a short walk from the INN is the Can Company where you'll find a casual Italian restaurant that serves renowned pizzas and specialties. A warm and comfortable atmosphere and great food combined with reasonable prices make this a real gem. Canton Dockside - Canton - For the genuine hammer and pick Steamed Crab experience or other great choices. Casual dining and outdoor deck with harbor views.
Local Attractions
Join those who come to Baltimore for its major attractions, or venture beyond the expected and enjoy some amazing additional attractions in Maryland's largest city and the cultural hub of the state! Popular attractions: ~Inner Harbor ~National Aquarium ~Fort McHenry ~Baltimore Orioles baseball ~Baltimore Ravens football ~Fells Point neighborhood ~Little Italy ~Walters Art Museum ~Baltimore Museum of Art ~Water Taxi Service of the Inner Harbor Other Attractions: ~Maryland African American History Museum ~American Visonary Arts Museum ~Contemporary Museum ~National Museum of Dentistry ~Babe Ruth Birthplace and Museum ~Edgar Allen Poe House ~Maryland Science Center ~Baltimore Ghost Tours ~Segs in the City ~Pier Six Pavilion ~Hippodrome Theater