Hermann Hill Vineyard & Inn
P. O. Box 555
711 Wein Street
Hermann, MO 65041
573-486-4455
573-486-5373
Price Range: $157 - $331

Hermann Hill has two choices for guests...a bed and breakfast or cottages. Guests who prefer pampering, breakfast cooked and served, and perhaps meeting others stay at the inn. Guests wanting a more upscale and private experience at their own pace stay in our cottages. Both are sited on a bluff, with vinyards surrounding the inn and a view towards the center of town, and the Missouri River and views to the north at the cottages. Your stay is an ever-changing panorama of Hermann and the Missouri River Valley. Sleep late, have breakfast in bed, walk to a nearby winery, explore a quiet old river town, or simply relax and contemplate the view. Later, as the day wanes, enjoy a late afternoon on your private patio or balcony, and revel in the luxury that is Hermann Hill's specialty. The choice is all yours.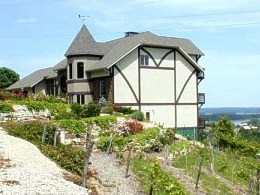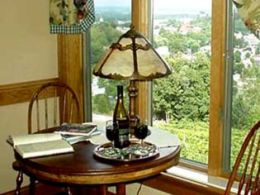 Accommodations
All eight of Hermann Hill's spacious bed and breakfast guestrooms feature solid oak woodwork. Decorated in a style that elegantly complements the region's Old-World heritage, Hermann Hill rooms all feature king size sliegh beds and antique furnishings. Modern amenities included in each room include large private bath with Jacuzzi-style tub and separate large shower, fireplaces, cable TV, VCR,DVD, and CD players,small refrigerators, robes, slippers, blow dryers, and in-room coffee. The cottages have two floors--each with kitchen, living room, bedroom, bathroom, and deck/patio with hottub and barbeque grill.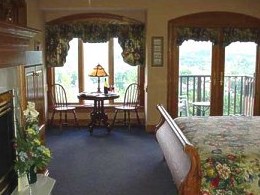 Breakfast
At the bed and breakfast, guests are given many breakfast choices upon arrival and are served breakfast each morning at their leisure, either delivered to their room, or in the dining room, kitchen, or on the deck. Choices include a hearty country-style breakfast, leaner continental fare, or an early "continental to go" for those who must depart prior to our normal breakfast schedules. At the cottages, food is provided and stocked before your arrival. You must prepare it yourselves.
Dining
Hermann features many fine restaurants that provide a variety of choices. Included in your confirmation letter is a map showing restaurant locations and phone numbers. Most of our guests dine at Europa, Vintage at Stone Hill Winery, Trapper's Grill, Simons on the Waterfront, or El Ranchito. We also have some colorful taverns that also provide food service, including the Concernt Hall & Barrel, and Sharp Corner Tavern.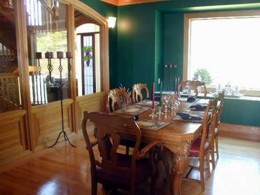 Local Attractions
During your stay enjoy Missouri Wine Country. Stone Hill Winery, Hermannhof, Adam Puchta, Oak Glen, and Bias wineries are a short drive away. Ride bikes or hike on the Katy Trail. We can provide you with a detailed map and narrative for a walking tour of Hermann that starts and stops at our inn. See the national historic district and Deutschheim State Historic Site. Browse antique and craft shops.
Of Special Interest
Take photos from your private balcony or patio of the sweeping panorama of the Missouri River, the town of Hermnn and Stone Hill Winery. Set your alarm to toast the sunrise. Fog frequently backs into the Hermann valley from the Missouri River and as the sun rises through the fog you get the refraction of light, producing a dazzling aray of colors as the church steeples disappear and reappear.