Historic Hayes House Bed & Breakfast
555 N 12th
Muskogee, OK 74401
918-682-4652
888-647-3622
At the Hayes House you will be treated to an elegant experience as you step back in time. This three-story home filled with antique Victorian and French furnishings, turn of the century chandeliers, and fine oak woodwork has an interesting history. Oscar Hayes was a wealthy businessman in Muskogee when Oklahoma was Indian Territory. His desire was to be the first Governor of Oklahoma in 1907 when it became a state. He began construction on the house that year with the intention of making this house the Governor's Mansion. Unfortunately, he did not win the race, but his home stands today as an elegant and welcoming abode to travelers.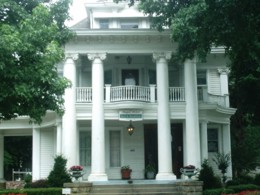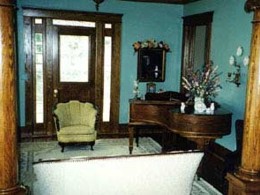 Accommodations
Hayes House has two rooms for you. The Governor's Suite is a three room suite with kitchette, a sitting area in the bedroom with couch and two chairs and antique queen size bed. The master bath has a two person jacuzzi tub and separate marble shower. You have access to the baloncy from this room. The First Lady's Suite is a romantic room with fireplaced, two chairs, chaise lounge and queen size antique bed. The bath has a two person jacuzzi/shower combination. Both rooms have goose down comforters, pillows and a feather topper on the bed. Snacks and drinks are provided in the room.
Breakfast
Breakfast at Hayes House is a real treat. The fruit cups are always fresh. The main entre could be an Italian Fritta with a Dark Cherry Clafouti or a Breakfast Blossom with Orange/blueberry French Toast served with breakfast potatoes. Fresh juices and Starbucks coffee finish the fare.
Dining
We provide a Romantic Five Course Dinner in our dining room upon request. the meal begins with shrimp cocktail, followed by our spinach/strawberry salad. The main entre is your choice of Phillo wrapped Chicken Breast, Filet Mignon, or Prime Rib. The dessert always is a hit in this dinner. The cost is $75.00 per couple.
Local Attractions
Muskogee has three museums of Indian art, several antique malls, great shopping in Arrowhead Mall. The Castle of Muskogee provides seasonal attractions(The Reneissance Fare, Fireworks display and sales, Haunted Castle, etc).
Of Special Interest
Hayes House provides a Massage Package for $60.00 per hour that will melt away the tension in your life. We also do weddings upon request.