Gingerbread Mansion Inn
400 Berding Street
Ferndale, CA 95536
707-786-4000
800-952-4136
707-786-4381
Exquisitely turreted and gabled, the Gingerbread Mansion Inn is truly a visual masterpiece. Located in the Victorian village of Ferndale, the Inn is surrounded by lush English gardens. Featuring two of the West Coast's most luxurious suites--the 'Empire Suite' and 'Veneto'. Garden views, and old-fashioned tubs and fireplaces for fireside bubble baths are featured. Amenities include a morning tray service, full breakfast, afternoon high tea, turn-down service with bedside chocolates, bathrobes. Ferndale is close to the Giant redwood parks and ocean beaches. AAA four diamonds 9 years in a row!!.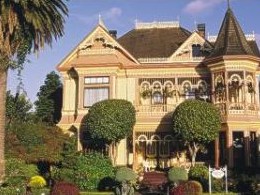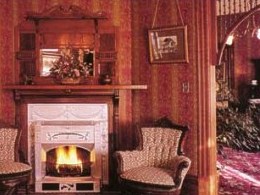 Accommodations
Well known as one of northern California's most photographed inns, the Gingerbread Mansion Inn is a spectacular example of Victorian splendor, both inside and out. The exterior boasts spindlework, turrets and gables, as well as a formal English garden. The inn offers four parlors and eleven romantic guest rooms, all decorated with antiques. Guests are pampered with luxuriously appointed baths (some with his-and-her clawfoot tubs and/or fireplaces), bathrobes, turndown service, morning coffee and a delicious full breakfast. Our grandest guest room, the Empire Suite, offers all of this and more: King-size bed, a large bathing area with a marble and glass shower and clawfooted tub in front of a fireplace; a sitting area with fireplace and dining area (for breakfast served in room) complete the other side of the suite. We consider Empire Suite to be Northern California's most opulent room!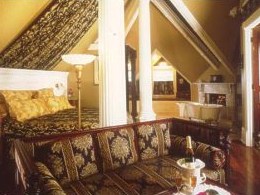 Breakfast
Chef Larry Martin is in charge of creating, preparing, and serving The Gingerbread Mansion's array of recipes for both the inn's breakfast and tea. Breakfast is served in a formal dining room with French doors overlooking the English gardens. Tea is served in the four parlors of the mansion. The Gingerbread Mansion Inn is proud to announce a new cookbook, "Cooking at the Inn with Chef Larry Martin" featuring some of Larry's favorite recipes. A few of these wonderful culinary delights are featured here for your pleasure, but if you've ever sampled some of Larry's tasty creations while visiting the Inn, and wished you could recreate them at home, here's your chance. The cookbook is 200 pages of recipes, and helpful hints to get the best results in your kitchen. Recipes for sumptious breakfasts and delightful afternoon teas are the focus of the book.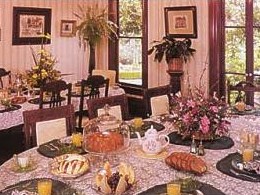 Local Attractions
"A genuine Victorian hamlet" (AP reporter Jennifer Marin), Ferndale has been dubbed "the best preserved Victorian village in California," by Los Angeles Times travel editor Jerry Hulse. Sunset magazine confirms that "you can immerse yourself in Ferndale's Victorian spirit." Nestled between the two redwood forests in a thriving dairy community, you may discover Northern California's best-kept secret, The Victorian Village of Ferndale. Park your car to step back in time. Enjoy magnificently preserved Victorian architecture as you stroll; pick up visitor information from any shop. On the National Register of Historic Places, Ferndale's Main Street is a photographer's paradise and a shopper's delight.
Of Special Interest
Explore the old-fashioned mercantiles, antique stores, art galleries, and specialty shops. Listen to the clip clop of the horse-drawn carriage, go into a shop where saddles are still handmade, and talk with the friendly people. Watch fresh candy being dipped by hand to whet your appetite for a fine dinner and an evening of theatre. Resting by the fire in your elegant bed and breakfast inn, think about tomorrow: a walk along nearby coastline, a nature hike in Russ Park (the 110-acre forest bird sanctuary), a boat tour of the Eel River Delta, a visit to the museums, a leisurely day filled with old-fashioned service and friendly faces.