Five Gables Inn & Spa
209 North Talbot Street
St. Michaels, MD 21663
410-745-0100
877-466-0100
Price Range: $150 - $395

Nestled in the picturesque Chesapeake Bay village of St Michaels, MD on Maryland┐s Eastern Shore, Five Gables Inn & Spa blends the historic charm and warmth guests seek with a luxury spa experience. The result is the premier Maryland Spa Resort. 11 rooms and 3 suites, all with spa tubs and fireplaces are complemented by an indoor pool, sauna and steam room, generous amenities, a gracious and truly helpful staff and a superb location. The St Michaels Maryland spa on site is open daily and offers a full range of relaxing treatments, all featuring Aveda products and skillful professionals. And, we're smoke free.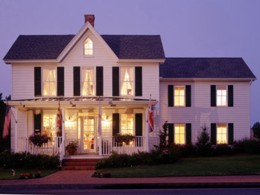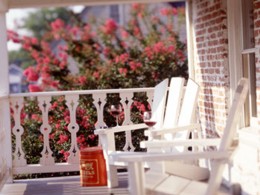 Accommodations
We offer queen, twins, king, deluxe king and suites room styles. All rooms have private bath with either a single or double whirlpool tub and shower, some rooms have rain showers with multi-jets. All rooms have seasonal gas fireplaces, some rooms have balconies or porches.
Breakfast
We offer an expanded continental breakfast to all of our guest which includes, cereals, breads and muffins, four juices, yogurts, hard boiled eggs, fruit and of course coffee and tea.
Dining
Within walking distance are many fine restaurants our favorites are Bistro St. Michaels, Shore and 208 Talbot. All three are perfect for a special celebration dinner.
Local Attractions
The Chesapeake Bay Maratime Museum is the most popular attraction in St. Michaels. learn all about the Bay and its offerings.
Of Special Interest
Five Gables Inn & Spa is an Aveda Concept Spa offering Massage, Facials, Hot Stone Massage and our new Carribean Therapy.