FitchClaremont House
83 Fitchville Road
Bozrah, CT 06334
860-889-0260
877-889-0266
860-889-3748
Price Range: $89 - $169

Welcome to the FitchClaremont House, a Connecticut Bed and Breakfast Inn. Our romantic Connecticut B&B is situated on historic Fitch Farm Vineyard in scenic Southeastern Connecticut, gateway to New England. Our location is convenient to major highways (I-95, I-395, Route 2), just minutes from Foxwoods Resort Casino, Mohegan Sun Casino, and historic Mystic Village - home to Mystic Seaport, Mystic Aquarium, and other Mysticcountry attractions.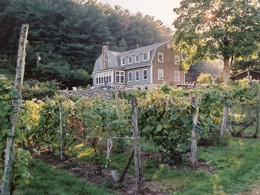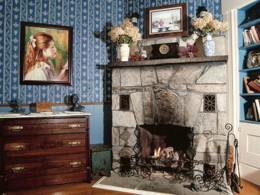 Accommodations
We offer four comfortable guest rooms, all with private bath, fire place, air conditioning, ceiling fan, TV and phone. Each room is uniquely decorated with antiques and comfortable furnishings. The rooms are large--13x25--with windows overlooking the vineyard and New England countryside. In addition, you will enjoy the casual feel of our large home with the library, sun room, wine cellar and vineyar.
Breakfast
Many have praised our breakfast as the "best I've ever had." You will not leave the breakfast table hungry. Each day brings a unique menu Our vineyard breakfast has been regarded by many as the "best breakfast I have every had." When you sit down at the table in the sun room overlooking the vineyard to a meal that boasts fresh juice, fruits from the property, coffee-tea-ice water,a hot pastry from the oven, and then proceed to eggs,pancakes,ham-bacon-or sausage, and innfried potatoes, life is good. Then of coarse the vineyards own breakfast wine is there to sample. Doesn't get better than that. It's the reason why, after you stop here, why go someplace else.