The Firelight Inn on Oregon Creek
2211 East 3rd Street
Duluth, MN 55812
218/724-0272
888/724-0273
218/724-0304
Price Range: $175 - $249

In 1910, George G. Barnum, a successful businessman, world traveler and philanthropist commissioned architects to build a home large enough to showcase his collection of art and accommodate frequent guests -- a home to reflect the significance of his land ownership and wealth. George Barnum was a grain baron, a very compassionate and generous man and one of the 85 millionaires living in Duluth at the turn of the century. Now renovated for a luxury bed and breakfast experience and celebrating 100 years of history in 2010!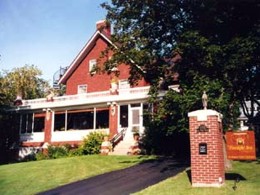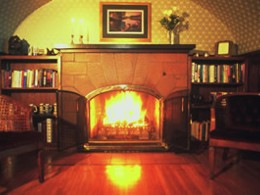 Accommodations
Each suite features a gas fireplace, Jacuzzi whirlpool for two, featherbeds, bathrobes, hair dryers, magnifying mirrors, TV/VCR/DVD, audio system, CD player, IPod docking stations and luxurious amenities. Two suites have access to an outdoor deck overlooking Oregon Creek. The inn also features a glass-enclosed original front porch overlooking Oregon Creek below as it flows to Lake Superior.
Breakfast
Our specialty is delivering your full gourmet breakfast to the privacy of your suite each morning to be enjoyed by the firelight. Your breakfast may include a baked apple pancake, sausage, fruit compote, banana bread, delicate pear muffins, Alakef coffee, Stash premium teas, milk and orange juice. We would be happy to serve you at the dining room table or glass-enclosed front porch if you so prefer.
Dining
A soup supper is available with fresh bread and wine to enjoy in the privacy of your suite! Other special packages include fruit, cheese and cracker platters, champagne and chocolate covered strawberries, a single rose and truffles, Honeymoon and Anniversary Treasure Chests, Romance Baskets, BabyMoon package and a great gift shop.
Local Attractions
The historic Glensheen Mansion built at the turn of the century is a great tour full of history, elegance and offers details of famous murders which occurred there in 1977! The attraction is only a couple miles from the Inn.
Of Special Interest
On-site massage therapy is available in our Woodland Suite. Just a walk down the stairs or down the hall in your luxurious Firelight Inn bathrobe for a relaxation massage and then return to your suite for a whirlpool. One hour relaxation massages, couples teaching massage and sea weed wraps with relaxation massage are also available.