The Empress of Little Rock
2120 South Louisiana
Little Rock, AR 72206
501-374-7966
877-374-7966
501-375-4537
Price Range: $135 - $295

This award winning 1888 Gothic Victorian has been described as "Queen Anne on steriods" and featured in National Geographic Traveler as well as HGTV on numerous shows. Original stained glass skylight, hidden card room in the turret, oppulently decorated with understated elegance and includes the 7500 sq. ft. main house known for it's authenic period restoration, as well as the renewly renovated "Carriage House" featuring state of the art spa suites and conference center as well as award winning gardens.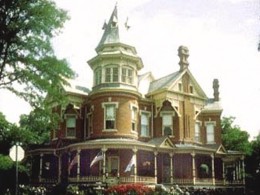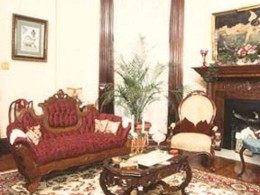 Accommodations
Three spa suites feature state of the art hydro-massage therapy jet showers with steam and aromatherapy, double jacuzzi's, heated towel racks, featherbeds and balconied rooms overlooking the Moonlight Victorian Secret Garden with Gothic Gazebo and orginal fountains. A lovers paradise. The Main House featured 5 rooms, three of which are suites with original antique soaking tubs and showers, featherbeds and authentic period furnishings. The new conference center provides guests with an warm and luxuriously intimate setting for business meetings which open onto the gardens and lawned plaza. Perfect for retreats and special board meetings.
Breakfast
Breakfast is served with all the appropriate Victorian pomp and circumstance using crystal, silver, china, a bow-tied butler and served "before" her Majesty, the Queen(Victoria, that is). The first course is either a homemade fruit sorbet or fruit soup often created using ingredients from the herb garden or orchard of The Empress by our own Sharon Welch-Blair, locally renouned for her culinary expertise and service with Victorian flair. The main entree consists of either a sweet or savory using souffle's or puffed pastry, meat and sauces and fresh fruit and juices. Often there are additional special treats and homemade breads adding to the repast. Definitely known as an experience not to miss while at The Empress.
Dining
Since Little Rock has a phletora of fine dining available it is hard to choose just one with so much ethic and regional food to choose from. But our favorite is Ristorante Capeo, just a trolley ride over the river to North Little Rock. Lovely atmosphere, excellent wines, creative and fine presentation of northern Italian food.
Local Attractions
The Clinton Library, the Old State House where the Clinton campaign kicked off, Historic Arkansas Museum, the Arts Center founded by the Rockefeller and offering phenomenol gallery for a city this size; the remainder of the historic district featuring numerous restored homes from 1830 to after the turn of the century including Curran Hall Visitors Center.
Of Special Interest
You won't want to the miss the Old Mill, a wonderfully romantic water mill and park that were included in the opening credits of "Gone With The Wind"!