Dreams of Yesteryear Bed and Breakfast
1100 Brawley Street
Stevens Point, WI 54481
715-341-4525
715-341-4248
Price Range: $72 - $160

Featured in Victorian Homes Magazine and listed on the National Register of Historic Places, Dreams of Yesteryear is rich in Victorian elegance and history. The house and its period furnishings have stories to be told. Its owners, Bonnie and Bill Maher are just the ones to tell it. Besides being a Stevens Point landmark, "Dreams" stands as a symbol of Stevens Point's past. The bed and breakfast's six guestrooms including two suites (one with whirlpool), private baths, three parlors, formal dining room and porches and grounds are all available to guests. All rooms include a full gourmet breakfast served on dining room furniture original to the house.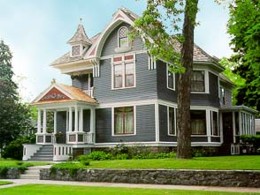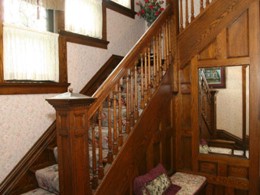 Accommodations
Dreams of Yesteryear offers guests their choice of six guestrooms located on the second and third floors of this massive Queen Anne home. The Ballroom Suite is spacious and comfortable and is located on the third floor of the house. The third floor was intended by the builders of the house to be a ballroom, hence the name of this suite. The Ballroom Suite includes a queen-sized bed beneath the cathedral ceiling, a private bath with a whirlpool tub and shower, and a sitting area. The Heritage Suite is located on the third floor. Its decor includes memorabilia and historical items from Stevens Point and Portage County, giving you a chance to reflect on what life was like in days gone by. The Heritage Suite includes a queen-sized bed, a private bath with a walk-in glass-walled shower, and a sitting room. The Isabella is a spacious room located on the second floor. The Isabella room has a queen-sized bed, a private bath featuring a clawfoot tub with a brass shower ring, and a pull-chain water closet. The Florence Myrna Room "Flo" as we affectionally call this room, is a brightly lit space with large windows overlooking the back yard. The Florence Myrna Room has a double-sized bed and a private bath with a neo-angular walk-in shower. Gareld's Room is located at the very front of the house on the second floor. It has two twin beds that can be combined into one king-sized bed. Gareld's Room shares a first floor bath with one other room. Terry robes are provided. The Maid's Quarters. Don't worry, we won't make you clean if you stay in this cozy room. The Maid's Quarters has a double-sized bed and shares a first-floor bath. Terry robes are provided in the room.
Breakfast
Breakfast at Dreams of Yesteryear is no ordinary experience. Our menus are designed for you to experience something new--and delicious! At Dreams of Yesteryear we strive to make sure you have the fullest experience of a bed and breakfast possible. This is why our bedrooms are meticulously decorated in the Victorian theme and every amenity is provided for. But that is only half the equation... the other half, of course, is breakfast! Here are a few of our favorite breakfast offerings. Pecan or Strawberry Stuffed French Toast Slices of French bread are tucked with a mixture of cream cheese and pecans or strawberries, sprinkled with powdered sugar, and served with Wisconsin butter and real maple syrup! Recipe for Pecan or Strawberry Stuffed French Toast Eggs Benedict This is Bill's specialty! Made with Canadian bacon, or asparagus for those who prefer a meatless version, with poached eggs and Hollandaise sauce served over a freshly toasted English muffin. German Apple Pancake A heavenly soufflé with apples and pecans. Light & scrumptious, you can't get enough! Cinnamon Nut Oat Cakes These pancakes are hearty and flavorful, with a marvelous texture you can sink your teeth into! Perfect with Wisconsin butter and real maple syrup. Click here for the recipe for cinnamon nut oat cakes. Real Blueberry Pancakes Not too thick, almost more blueberry than batter served with Wisconsin butter and real maple syrup! Each of these centerpieces is complimented with fruit, juice or our special energy drink, perfectly browned sausage links (no MSG!) or crispy bacon, bottomless pots of regular or decaffeinated coffee, or tea, and cream and sugar if you like. Special Requests? Just let your us know if you have special dietary needs. Weight Watchers ¿, diabetic, low-carb, gluten-free and vegetarian friendly meals are available with advanced notice.
Dining
Dreams of Yesteryear has available a stack of menus for many of the places we often send our guests to dine. One of the places we refer to most often is The Red Mill Supper Club. The Red Mill began as a Country Bar in the 1930's that featured Charcoal grilled sandwiches & Friday Night Fish Fries. Early in its existence, the restaurant was called the Tip Top. It was not until 1952 that the business was purchased by a couple from Milwaukee and it was rename The Red Mill. Several years later, a red windmill was constructed on the southwest corner of the business and lasted approximately 20 years before it was taken down. The Red Mill has seen a few proprietors over the years, most of which were family operations. The Neuwirth Family purchased the The Red Mill in 1982 and Bruce turned what was just another country bar into what Wisconsin Trails March - 1996, called "a fine, upstanding restaurant." During the Neuwirth's ownership, the restaurant's mascot, Melba- Jean Cow, was cow-napped and taken around the world by a friend in the military. The bulletin board in the restaurant features letters and photos of Melba's travels. Melba eventually arrived home several years later in an airport limousine. Many improvements have been made to the restaurant since the 1980's, including carpets, room dividers and a glassed in patio, overlooking a pond and fountain bordered by a wide varity of perennial flowers. Indoor and outdoor decorations attract many visitors thoughout the year; especially during the holiday season. In September of 2001, the latest chapter of The Red Mill began when the Thompson family became the newest owners. Originally from the Stratford / Marshfield area, Don and Melissa Thompson, along with their sons, are proud to be a family owned and operated business. The Red Mill is also part of our Dreams of Yeseryear Romance Package.
Local Attractions
Guests to Dreams of Yesteryear come for a variety of reasons. There's the University of Wisconsin-Stevens Point, Sentry Golf Course, Stevens Point Brewery, and our historic downtown to name a few. But by far the most popular area attraction for Stevens Point seems to be our Green Circle Hiking and Biking Trails. This 30 miles circle around the city is for residents and visitors of all ages. "It places natural areas at our doorstep - for hiking, biking, jogging, cross-country skiing, canoeing, wildlife watching, fishing, family outings, and just plain solitude. The Green Circle preserves our natural areas while assuring their safe use for present and future generations." (from Green Circle website)
Of Special Interest
Our vast collection of antiques is a main attraction at Dreams of Yeseryear. Having been selected by Arrington's as the bed and breakfast with the best antiques is certainly deserved. Bonnie has been collecting antiques since she was in high school (we won't say how long ago that was). The collection just keeps growing. Bonnie and Bill bought this huge house to accomodate their furnishings.