Deerhill Inn
14 Valley View Rd.
P.O. Box 136
West Dover, VT 05356
802-464-3100
800-993-3379
802-464-5474
Price Range: $145 - $355

Chosen as one of the most romantic places in the world,Deerhill Inn is nestled in a hillside overlooking the quintessential Vermont village of West Dorver and offers panoramic views of the Green Mountains to the West. Guest rooms (including Country Inn Magazine's Room of the Year), have private baths, designer linens, microfiber robes, private porches, and toiletries by Provence Sante. The Inn's restaurant is renowned in the area for the Modern American cuisine of Chef Michael Allen. Add a romantic candlelit dining room and an award wining wine list and you have an experience that memories are made of. Chef-owned and operated and only 4 1/2 hours from Manhattan and 3 hours from Boston.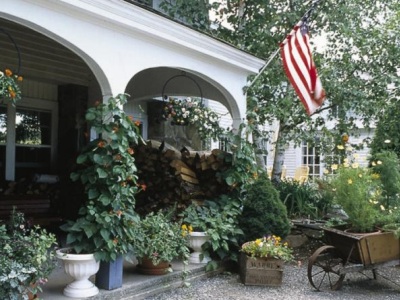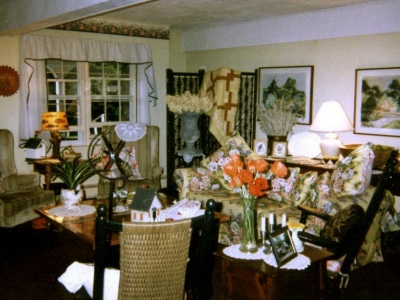 Accommodations
With 13 very different though thoughtfully appointed rooms, the Deerhill has something that fits every traveler's expectations. Our eight Enhanced Rooms have gas fireplaces, whirlpool tubs, TV/DVD, plus a private deck or balcony. Garden Rooms are light and spacious with a private deck or balcony overlooking our rear gardens and pool. Our traditional room is a cozy retreat. All rooms have private bathrooms, designer linens and towels, and though some are smaller they get the same attention to detail as the largest! The inn also has 2 large fireplaced sitting rooms with lots of comfortable sofas and chairs and a small library with almost 50 years worth of great reading! Our primary objective is to make a stay with us feel like a stay at a good friend's house - relaxed and comfortable,not cloying or intrusive. We pride ourselves on respecting our guests' needs for privacy and down time; but when directions are needed we also pride ourselves on 7+ years of experience here in southern Vermont and nobody knows the backroads and special spots better! And when the time is right to sit quietly on your private porch and watch an indescribable sunset over the Green Mountains everything else is secondary anyway! Hospitality is the simple hallmark of our inn experience.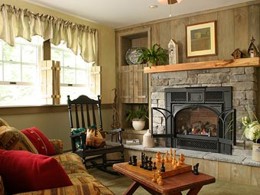 Breakfast
Even before you rise, you'll smell the fresh coffee perking and homemade muffins baking. A full service sit-down breakfast includes fresh baked breads, eggs any style, thick, cinnamon-y french toast and pancakes light as a feather (with real Vermont maple syrup of course!). Fresh fruit, yogurt and granola are always available too for those who really think they can't eat a Vermont farmer's breakfast! And for those who can't totally separate from the "real world" we provide complimentary daily newspapers. And outside the windows, views to take your breath away in the distance and in front, bird feeders that will sometimes make you blink with awe -hummingbirds, cardinals, blue jays, squirrels and chipmunks provide constant entertainment.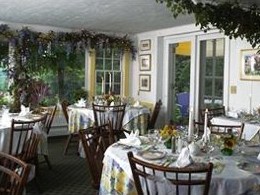 Dining
Dine in the restaurant that was chosen as one of "Conde Nast Traveler's Magazine's Top 25 Inns of North America To Eat, Sleep and Be Merry",and discover why "chef owned and operated" means so much more! Chef Michael Allen's Modern American cuisine has often been described as "amazing" by awe struck guests. His fresh baked Artisan breads have become renowned in the area and his pates, pastas and ice creams are all made in house as well. As a member of the Vermont Fresh Network, Michael works closely with local farmers and producers to utilize the best and freshest that Vermont has to offer. Add to this the romantic candlelit dining room and a Wine Spectator awarded wine list, and evening is complete.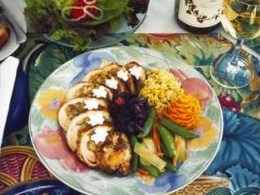 Local Attractions
The Deerhill is situated at the gateway to the rest of not only Vermont but large parts of New England. Within an hour or so's easy, scenic drive you can access the Berkshires of Massachusetts, Mount Monadnock in New Hampshire,the beginnings of Lake Champlain and even Saratoga Springs in New York! Just up the road you can tour some of Vermont's most scenic towns - from Woodstock to Grafton to Bennington - history, museums, antiques, shops and, always, Robert Frost's "road less travelled" to explore at your leisure. Just down the road - Wilmington - one of the jewels of southern Vermont towns - artists, artisans and crafts people of world class caliber. And then sample our "seasonings" - in winter ski at some of the East's best resorts - Mount Snow and Haystack at your feet. Stratton, Bromley and Okemo just a short drive. Cross-country ski at some of the state's best touring centers. In spring, smell the maple in the air as sugaring season begins, watch our gardens grow and our mountains green. In summer, cast for trout on fabled streams, golf on championship courses, marvel at the Marlboro Music Festival, ride a bike down a mountain, or enjoy first-class summer theater. And in the fall - Mother Nature speaks for herself and never ceases to awe even the most jaded of wanderers with her eloquence.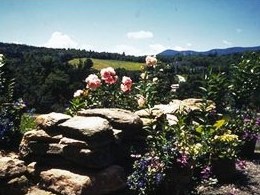 Of Special Interest
The perfect spot for that special day - Weddings & Civil Unions