Inn on Crescent Lake
1261 St. Louis Avenue
Excelsior Springs, MO 64024
816.630.6745
Price Range: $135 - $285

Welcome to the Inn on Crescent Lake, Kansas City's Most Romantic Getaway. Located in historic Excelsior Springs, Missouri, the Inn is only 30 miles from downtown Kansas City and Kansas City International Airport, making it the ideal choice for a romantic getaway, elegant wedding, or corporate retreat. During your stay, enjoy the paddle boats, rowboat, fishing, swimming pool, outdoor seven-person hot tub, gas fire pit, on-site spa services, and walking path. Visit the world's longest mineral springs water bar in downtown Excelsior Springs. Play golf at the Excelsior Spring championship golf course. Wine connoisseurs will enjoy sampling the products of three unique vineyards located within 20 minutes of the Inn.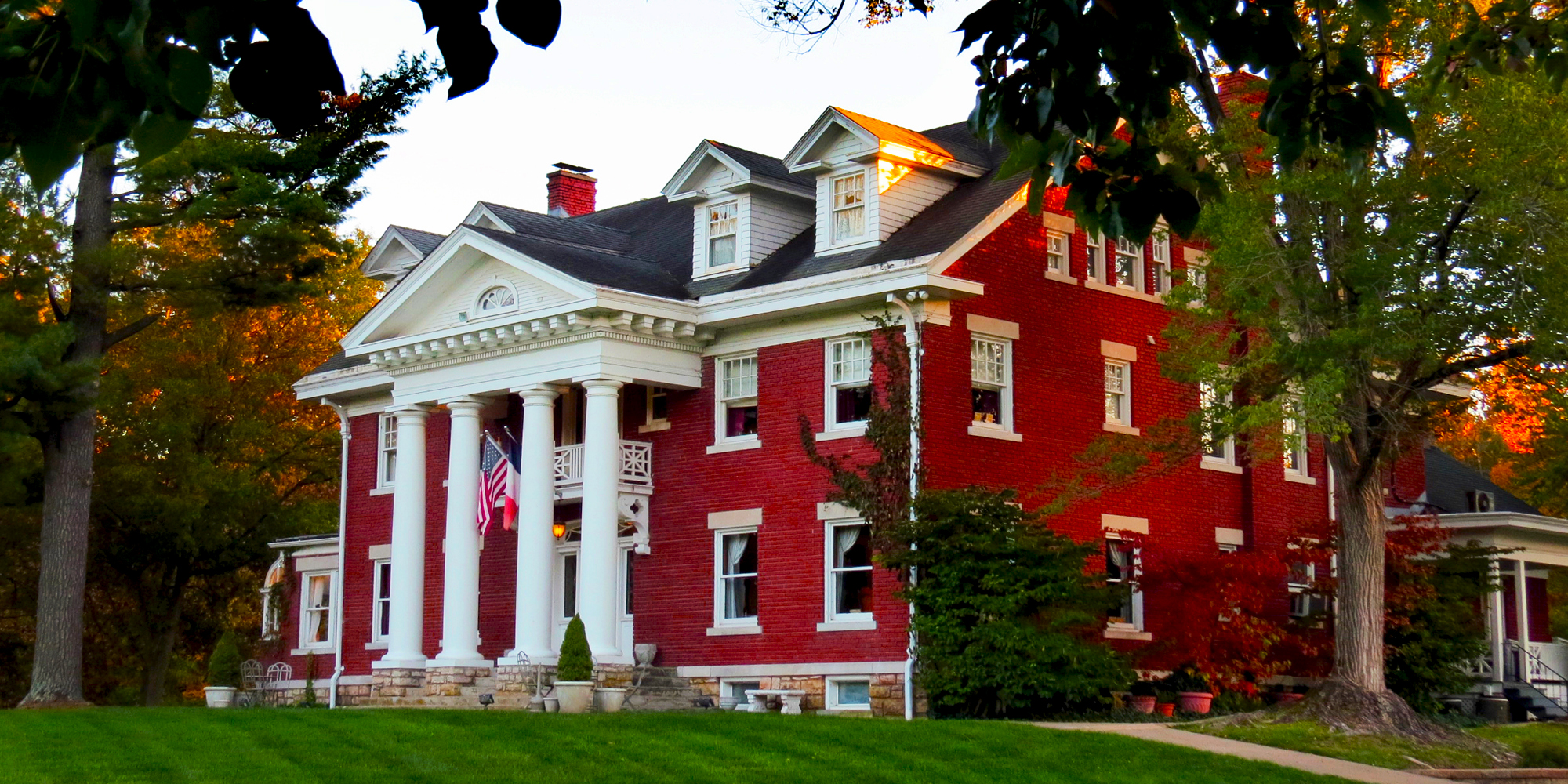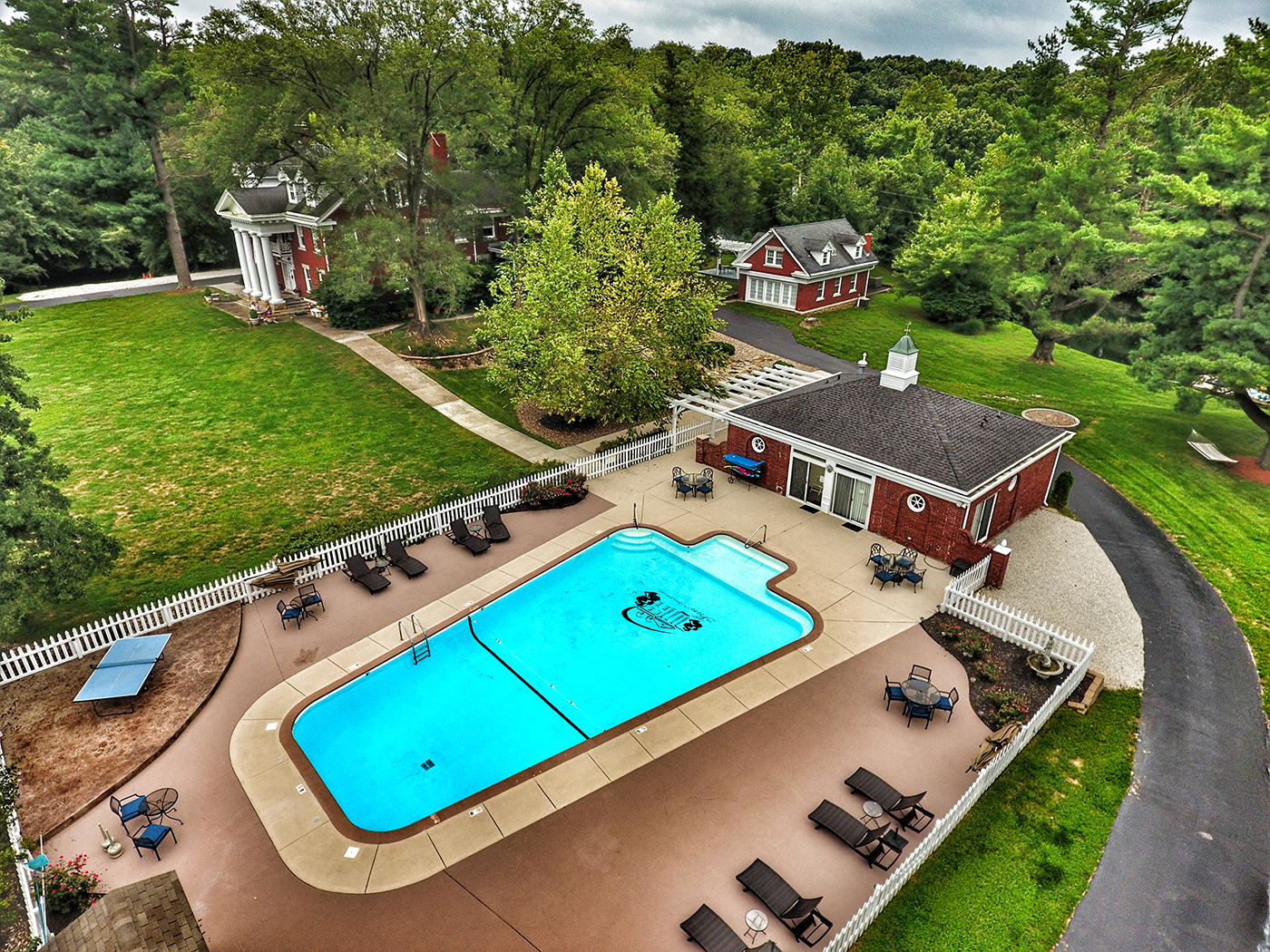 Accommodations
The Inn on Crescent Lake consists of 10 uniquely decorated rooms and suites. Each room has a private bath, central a/c and heat with individual temperature control, radio alarm clocks with MP3/iPod capability, and a flat-screen television with premium cable programming and DVD player. The third floor contains two large suites (Ballroom and Crescent Suite) that both are spacious and quiet. Each suite has a sitting area, a two-person jacuzzi tub, and views of the peaceful country setting. The five rooms on the second floor (McCleary, Paris, Stripe, Emerald Rose, and Casbah) vary in both the size of the bed and the type of decor. Choose from period claw-footed tubs, jacuzzi tubs, king or queen-sized beds and different views of the grounds. The first floor Garden room is ADA-compliant and has a private entrance and private outdoor hot tub. There are two separate buildings in addition to the mansion - the Cottage and the pool house. The Cottage is a private two-story bungalow located by the lake. The large, airy Tuscany Suite is tucked away in the pool house, where you can enjoy beautiful lake views and the convenience of our sparkling swimming pool just steps from your door. Each room at the Inn on Crescent Lake is private, spacious, and decorated with your comfort in mind. All rooms come with a complete hot breakfast for two served in the Solarium each morning, as well as full use of all the Inn's amenities, including the seven-person outdoor hot tub, walking path, paddle boats, fishing, and swimming in the pool.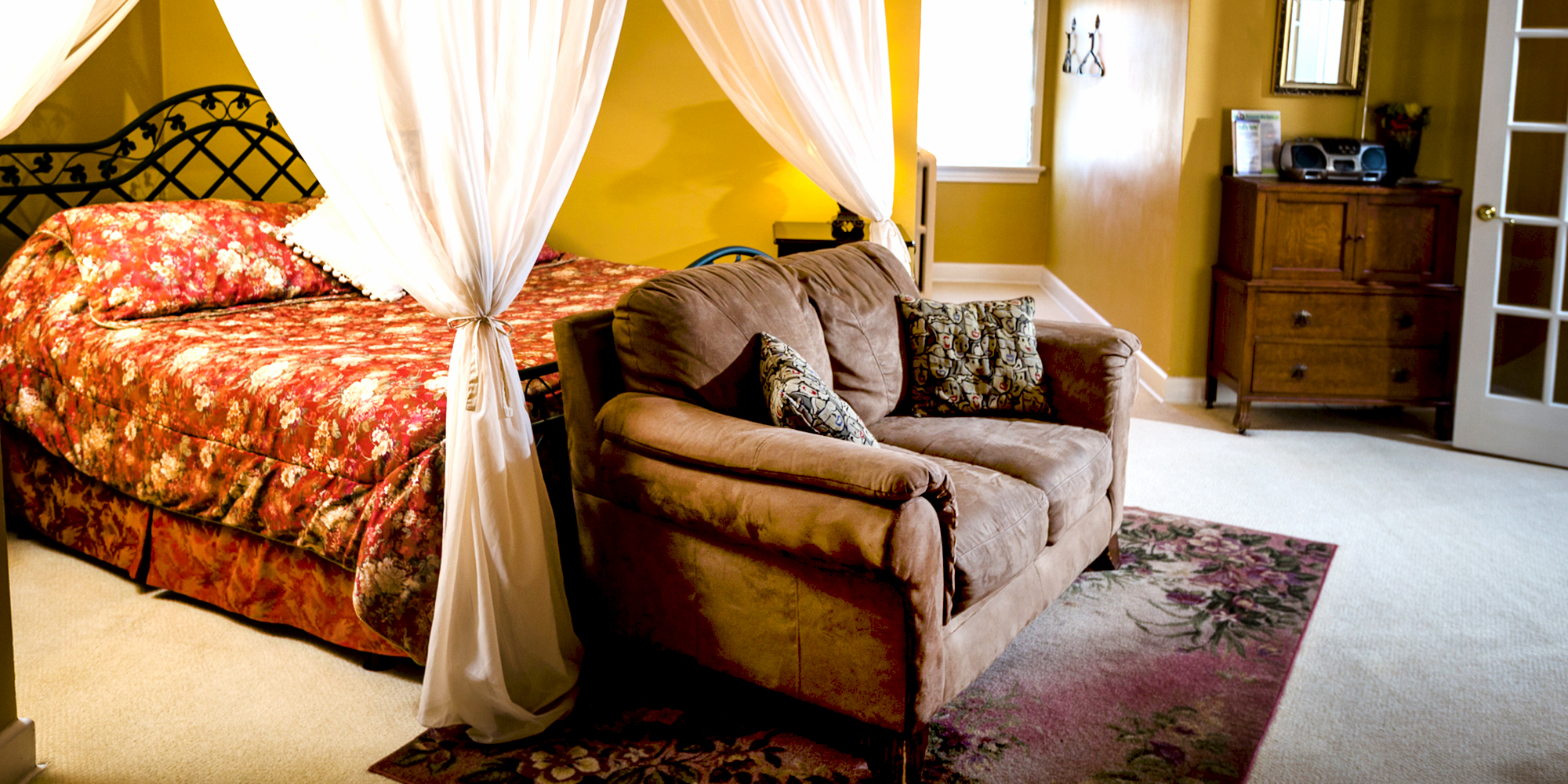 Breakfast
The quiet of morning starts from the moment you wake from a peaceful night's sleep. Smell the coffee and sip your orange juice while your breakfast is being prepared in our kitchen. As the sun fills the Solarium, the day begins. Your hot, hearty, freshly-prepared breakfast might include our special strawberry cream cheese-stuffed French toast; an egg, cheese and sausage casserole; cinnamon French toast; or decadent chocolate-filled croissants. And, of course, fresh fruit and bacon, sausage, or all-beef smokies make your breakfast complete.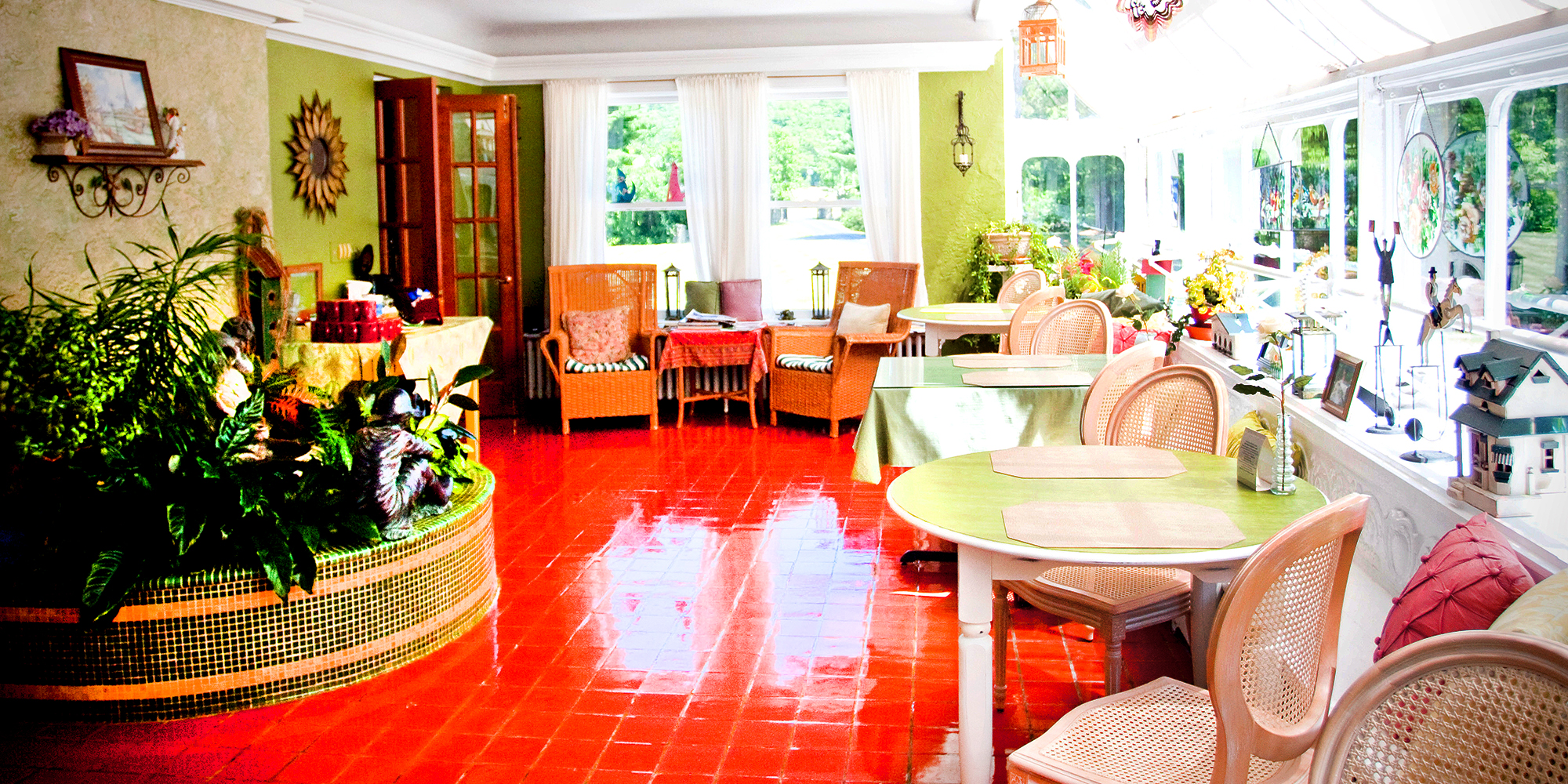 Dining
Enjoy an incredible meal and friendly service at Ventana Gourmet Grill, which is our very favorite restaurant in town (don't miss Wendy and Jill's homemade cheesecake, which is better than any we've ever tasted!). A visit to the Kansas City area isn't complete without barbecue, and Excelsior Springs enjoys award-winning offerings from Wabash Barbecue, located five minutes from the Inn. Try their burnt ends and onion straws! If you're a wine-lover, why not enjoy our local vineyards? Fence Stile Vineyards & Winery is a family-run vineyard and winery located just minutes from the Inn. The Van Till Family Farm and Winery is bringing back the "good old days" in taste, nutrition, and the enjoyment of great food and wine with their "farm-to-table" philosophy. Delicious "Wood-Fired Oven" Pizza is served year-round on the beautiful garden patio from 4 p.m. until 8 p.m. Fridays and Saturdays from noon until 8 p.m. Enjoy sampling their authentic Missouri wines in the wine shop Tuesdays through Saturdays! The newest entry is Four Horses and a Dog, which has quickly grown to become an area favorite. You'll want to mark your calendar for the third weekend in June for our annual Wine Festival! (We won't let you go hungry - we provide a full list of area restaurants when you check in.)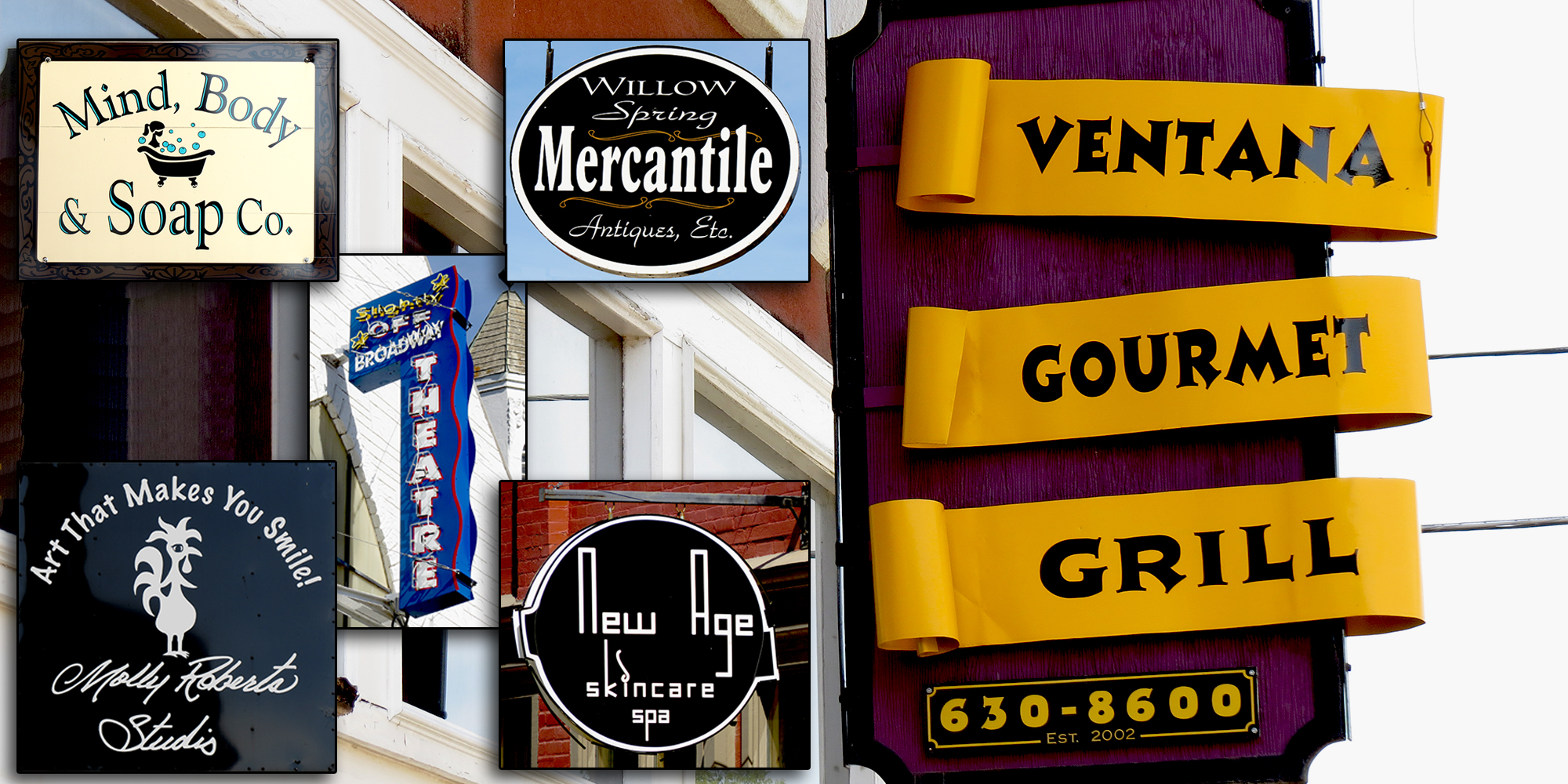 Local Attractions
Go biking or hiking at the beautiful Watkins Mill State Park, located just four miles from the inn. The park boasts more than four miles of paved bike trails, beautiful scenery, a historic woolen mill, and a lake for swimming and picnics. In Kansas City, tour the beautiful scenery and gardens at Powell Gardens. Or enjoy watching the wild animals at the Kansas City Zoo. Whether you like to play sports or watch sports, there are many things to do near by! Schedule a tee time at the beautiful public golf course in Excelsior Springs called Excelsior Springs Golf Club. Several golf tournaments are held here each year including the Gregg Williams Tiger Golf Classic, Chamber of Commerce tournament, Good Samaritan Center Spring Scramble and the vintage Hickory Stick Golf Tournament. For more than 50 years, the Mineral Water Bowl football game has been played in Excelsior Springs and now features top NCAA Division II teams. Or try your hand at bowling at Tiger Bowl right here in Excelsior Springs. Enjoy horseback riding at Bell Oaks Stable in Smithville or in Independence at Misty River Equestrian Center. Catch the 2015 World Series Champion Kansas City Royals for a major league baseball game at Kaufmann Stadium. Watch the NFL's Kansas City Chiefs play at Arrowhead Stadium. Or tour the world-famous Negro League Baseball Museum , where legends like Satchel Paige, Josh Gibson, and Buck O'Neil are remembered. Do you enjoy visiting museums and going to theaters? Visit one of Kansas City's many fine museums and theaters including the Nelson-Atkins Museum, KC Ballet, Kemper Museum, Starlight Theater, New Theater, or the Unicorn. Music lovers rejoice! In Kansas City, visit one of the many places to relive the history of music or listen to live music including the American Jazz Museum, KC Symphony, Lyric Opera, and Starlight Theater. If you'd like to stay closer to the Inn on Crescent Lake, you can enjoy awesome barbeque and live blues and classic rock at the Ice House Blues Garden right next to Wabash Barbecue. The summertime schedule starts in mid-May. Are you a history buff at heart? There are many historic sites right in Excelsior Springs and in nearby towns. Founded as a spa resort in 1880, Excelsior Springs still offers a unique atmosphere in architecture, parkways, and people. Attractions inside the City of Excelsior Springs include the Hall of Waters, a magnificent Art Deco building that features a community history tour inside the water bar area. Adjacent to the Hall of Waters is the Excelsior Springs Museum and Archives, another magnificent building designed by Louis Curtiss. This bank is where Frank James was known to have made "deposits" instead of "withdrawals." Several films have been made using the original bank's vault as a backdrop. Inside the old Francis Hotel is an art gallery, more museum displays and historic archives. Drive just a couple of miles and visit the infamous Jesse James Farm to relive the history of the Wild West. The museum holds a treasure of Jesse James and James family artifacts, including three of Jesse's guns, the boots he was wearing when he was killed and the family Bible, with inscriptions written in Zerelda James' own hand. Only 15 minutes from the Inn on Crescent Lake, visit Lexington where the famous Battle of Lexington is re-enacted each summer. Travel just 20 minutes and visit Independence, home of President Harry Truman, and visit the Truman Library and Truman Home. In Kansas City, you'll be able to visit the Steamboat Arabia Museum and visit one of the largest collections ever of the Civil War era. Discover how life was on a famous steamboat back in the 1800s. A mere 20 minutes from the Inn are loads of fun and excitement for you thrill seekers! From April through October, visit Worlds of Fun, a huge amusement park with roller coaster rides guaranteed to thrill. You can also explore the waves and water slides right next door at Oceans of Fun. Try your luck at one of the many casinos all within 25 minutes: Ameristar Casino, Harrah´s North Kansas City Casino, Argosy Kansas City Casino, and Isle of Capri Casino. For an evening of urban fun, visit the Power and Light District and Sprint Center, with a courtyard that will hold 1,000 people, surrounded by restaurants and bars.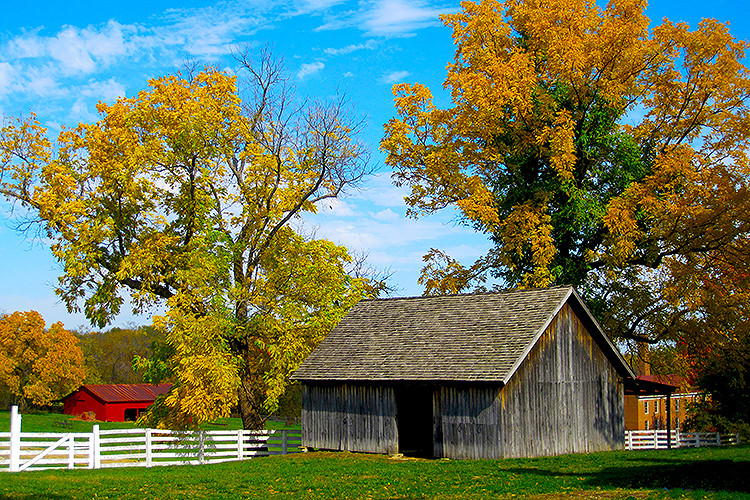 Of Special Interest
A day at the Inn on Crescent Lake brings many options. The lake has paddleboats, a rowboat, and a bass fishing boat for guest enjoyment. Bring a fishing pole and try your luck in catching a bass, sunnie, or catfish in our stocked ponds. Walk our trail hand-in-hand with your loved one or play badminton or croquet on the front lawn. As summertime takes hold, and the sun fills the property, the swimming pool is the perfect place to relax and read a book. In the winter, there is nothing like the warmth of the solarium to watch the snow fall on the expansive front lawn. Pamper yourself with a massage scheduled with a licensed masseuse in our massage room or hop into our year-round outdoor hot tub and watch the moon and stars above.