Colonel Taylor Inn B&B
633 Upland Road
Cambridge, OH 43725
740-432-7802
740-435-3152
Price Range: $135 - $195

Welcome to the Colonel Taylor Inn Bed and Breakfast; located in Cambridge, Ohio at the edge of the Appalachian Mountains; situated in a historic neighborhood, two blocks from our beautiful city park where you can stroll through the covered bridge, have a picnic lunch and/or feed the ducks on the pond; seven blocks from our quaint historic downtown with wonderful antiques, gift shops and so much more... Come experience warm country hospitality with all the grace and charm of a bygone era with all the comforts of today! As our guest, you are invited to enjoy complementary afternoon refreshments in the Victorian dining room by the fire or on one of the three porches. We also provide a collection of books and current magazines, along with games for your enjoyment... There are four beautifully appointed, comfortable rooms on the second floor with private baths, central air, fireplaces, luxurious amenities and much, much more!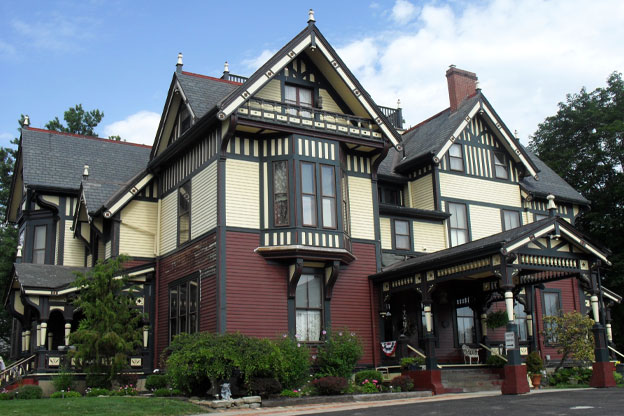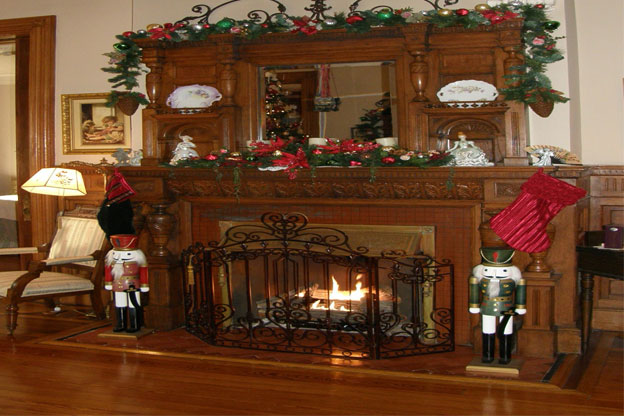 Accommodations
There are four large bedrooms available for our guests on the second floor all with extra pillows, blankets, lots of plush towels, Gilchrist & Soames soaps and amenities, Robes & slippers along with working fireplaces and so much more... The IRIS Room is beautifully decorated in blues, burgundy & touches of pink. It has a wonderful KING size bed, reading/sitting area, bay windows, a working gas fireplace & ceiling fan. A private hall bath/shower! The Iris room can be reserved as a room or as a suite with a lovely adjoining room that has a full size antique bed. The LILAC Room is down a private hall and is decorated in a gorgeous floral wallpaper that includes lilacs. It is green, pink, lavender & touches of yellow. There is a lovely sitting/reading area, bay windows, a large beautifully carved queen size four poster bed, a working gas fireplace & ceiling fan. Along with a private bath that has a shower only. There is cable TV in the room. Newly renovated the ROSE Room is the largest room decorated in a gorgeous rose wallpaper with a black background for a stunning effect. A comfortable sofa & chair for sitting/reading in front of three large windows looking out on the grounds. A large beautifully carved queen size four poster bed, a desk, a working gas fireplace & ceiling fan. There is a large bathroom (enter from the rose room) with original glass tiles - it has a whirlpool tub, a gas fireplace. The MAGNOLIA Room is a lovely room down a private hall with two large original period windows. It has a beautiful dark mahogany queen-size four poster bed, a sitting/reading area with three comfortable chairs, a working gas fireplace & ceiling fan,private bath/shower. With a magnolia garland over the bed.
Breakfast
Breakfast may include: Apple French Toast, Stuffed French Toast, Sausage Egg Casserole or Quiche; Canadian bacon, ham or Sausage; Banana Nut Bread or muffins; Fresh fruit bowl; juice & freshly ground gourmet coffee. Guests say they look forward to our scrumptious breakfast served on fine China & Crystal. Always served by candlelight with a roaring fireplace weather permitting!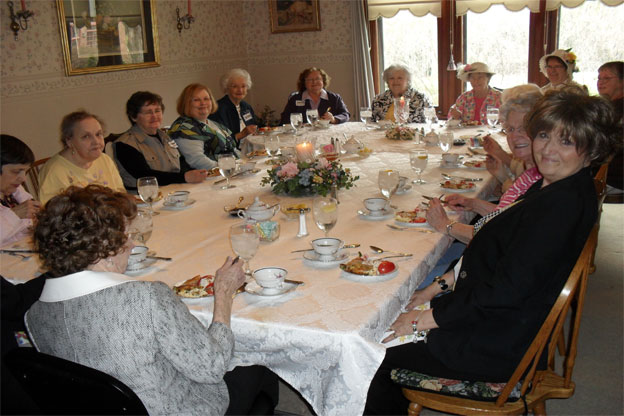 Dining
Cheese, Salami, Crackers & Fruit..................................$25.00 per couple Soup of the Day, Sourdough Roll & Dessert.........................$25.00 per couple Grilled Chicken Salad, Roll & Dessert........................$30.00 per couple Steak, Potato, Vegetable, Salad, Roll & Dessert.......$35.00 per person Cornish Hen or Fish, Rice Pilaf,Vegetable, Salad, Roll & Dessert.$35.00 per person (Coffee, Ice Tea & Ice Water are served with meal) Bring your own wine/champagne and we will chill it for your meal. Tax & tip are not included in the meal prices! Live Dinner music played by Dr. Laura Schumann by reservation for only $125 for one fabulous hour. ~PICNIC BASKET for two $65 to include a delicious lunch along with a basket and wine glasses to keep~ Holiday Packages and Parties ~ Let us host your holiday dinner or party in an elegantly decorated Bed & Breakfast Inn. We can do Cocktail parties for 150, Buffet or Formal Sit Down Dinners for up to 60. Dinners, Weddings & Other Parties ~ From the moment you enter you will find the Colonel Taylor Inn to be a perfect setting during any season for small intimate weddings or elopements, small parties, corporate functions or just a quiet retreat. We will work with you for all your needs. We also provide you with the option of using our beautiful grounds and outside settings.
Local Attractions
DO AS LITTLE OR AS MUCH AS YOU WANT at the Taylor Mansion... For some, having a massage and dinner at the Inn by candlelight is all they need to relax & rejuvenate the soul... Then on the other hand if you are invigorated by hiking, biking, tennis or golf we have it all... Take a pinic lunch and see the countryside. There is always shopping in our quaint little antique & gift shops downtown. Our Inn is located near many state parks, craft shops, antique malls, hiking, boating, horseback riding, cross-country skiing and other winter sports, many fine golf courses and within a short distance of many popular attractions!