Chimney Hill Estate Inn
207 Goat Hill Road
Lambertville, NJ 08530
609-397-1516
800-211-4667
609-397-9353
Price Range: $145 - $399

On a country road high in the hills above the charming historic riverside town of Lambertville, New Jersey, resides Chimney Hill Estate Inn. This gorgeous fieldstone house and barn, built in 1820, are surrounded by beautiful fields and gardens. The perfect spot for romantic getaways or corporate retreats, Chimney Hill Estate is only 1/2 mi from the antique-filled towns of Lambertville and New Hope. Known for great country-style hospitality, Chimney Hill Farm Estate provides its guests with comfort and elegance.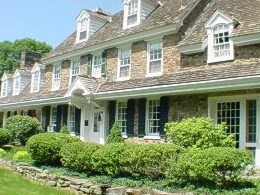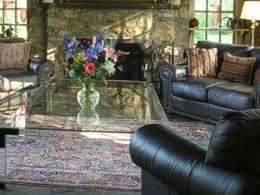 Accommodations
Twelve distinct guestrooms and suites occupy Chimney Hill Farm Estate Inn. Each room is unique and tastefully decorated , all have Private Baths and many have Fireplaces and Jacuzzis. Featured in Country Inns, New Jersey Country Roads, Colonial Homes and Philadelphia Magazine, Chimney Hill's home-like warmth and charm makes it a preferred choice for Bed & Breakfast connoisseurs. The Perfect Romantic Getaway or location for a Corporate Retreat or wedding, Chimney Hill is only a half-mile from the art and antique filled town of Lambertville and the neighboring town of New Hope, PA. Newspaper Reviews Hailed by the NY Times as: "an architectural treasure." The Patriot News and the Express Times' Gloria Hayes Kremer: "near perfection in its decor and gracious accommodations." New York Newsday: Inn of the Week March 3, 1997 1994 Asbury Park Press: "Where can you go to fulfill your desire to have the perfect wedding? Lambertville, to the enchanting Chimney Hill Farm Inn." Skylands Visitor Magazine: "It is the seclusion that the Inn offers that guests cherish most." Rated 4 Lips "Best Places to Kiss In And Around New York."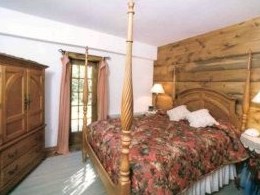 Breakfast
In the morning, awake to a delicious homemade breakfast served by candlelight at a table for two, nestled close by the fireplace in the original 1820 Formal Dinning Room. Our full breakfast features a different entrée each day such as Pancakes & Sausage, Belgium Waffles & Bacon, French Toast or Vegetable Quiche. Each morning we serve a fresh delicious selection of homemade breads along with fresh fruits and juice.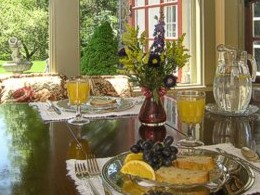 Dining
Come and enjoy our hospitality for a day trip or a weekend get-away. We have many fine restaurants and welcoming places to stay. From a romantic dining experience to a family celebration, you'll find a choice that is just right for you. MANON RESTAURANT 19 N. Union Street, Lambertville (609) 397-2596 Dinner Mon, Wed.-Sun., closed Tues. Prix-fixe menu offered on Wed. and Thurs. Sunday Brunch. Casual intimate atmosphere, featuring French Provencal food. Chef owned and operated. Personal checks, no credit cards. BYOB. Anton's at the Swan - 609-397-1960 Center Bridge Inn -215-862-2048 Cock N' Bull Restaurant - 215-794-4010 DeAnna's 609-397-8957 Earl's 215-794-4020 Stockton Inn - 609-397-1250 Hamiltons Grill Room - 609-397-4343 Harvest Moon 908-806-6020 Inn at Phillips Mill - 215-862-9919 Inn of the Hawke - 609-397-9555 La Bonne Auberge - 215-862-2462 Lambertville Station - 609-397-8300 Marsha Browns- 215-862-7044 Taste Buds 215-862-9722 Triumph Brew 215-862-8300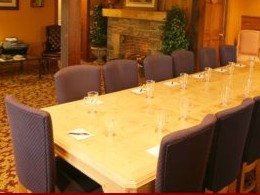 Local Attractions
One weekend each year, Lambertville is a city gone mad about shad. The city residents sing about it, draw it, look at it, catch it, and eat it during the two-day Shad Festival, held the last full weekend in April. There is something to interest everyone at Lambertville's Shad Festival. Crafters and artists line the streets offering some of the finest art work and other handicrafts to be found in New Jersey. Participation in the Shad Festival Juried Arts & Crafts Show is by invitation only, which ensures that festival goers will find only the best paintings, photography, jewelry, sculpture, woodworking, and other handicrafts. If you would like to receive an application for next year's event you may e-mail your name, mailing address daytime telephone number and a description of your craft to the Chamber and request a shad package. Entertainment during the Shad Fest is non-stop and marvelous. Local bands, dance companies, vocal groups, and soloists begin the fun at 12:30 each afternoon and continue until 5 pm. Music runs the gamut from blues, to rock, to jazz, to world music. Lambertville is known as "The Antique Capital of New Jersey," and it certainly lives up to the title. Antique collectors will find everything from 18th-century furniture and decorative arts to 50's Modern. Our region is also renowned for its flourishing art community. Lambertville's many galleries have created a haven for art collectors; the works of area artists both past and present are featured. Sports enthusiasts will find much to interest them here in addition to the Delaware River. The Delaware and Raritan Canal State Park runs through the heart of the town, offering scenic recreation opportunities for walking, jogging, biking, or even cross-country skiing. Take a canoe ride on the canal or go tubing in the river. The choice is yours.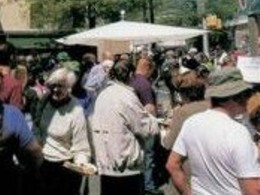 Of Special Interest
Successful meetings start with the right environment and for many, that environment must be comfortable, even nurturing; where personal as well as intellectual needs, are satisfied. At Chimney Hill Farm Estate, we supply just that kind of environment. We offer the personal services and ambiance of an intimate Bed and Breakfast for memorable and effective meetings. With just one phone call you can secure lodging and private baths, relaxed and comfortable meeting areas outfitted with the support equipment, wonderful dining, plus entertainment and cultural diversions for your meeting participants. Your cost for a meeting room starts at $300 per day. So join the many groups who have benefited from this unique meeting environment concept.