Chiltern Inn
11 Cromwell Harbor Road
Bar Harbor, ME 04609
207-288-0114
800-709-0114
Price Range: $225 - $379

Chiltern Inn is a genteel bed and breakfast featuring spacious rooms, unique common areas, floral gardens, original art, indoor pool, hot tub and sauna, and a home theater with tiered seating. Lovingly re-designed from the historic carriage house of a Victorian estate, the Chiltern Inn has been featured in Country Inns (August '98), Leading Estates of the World (no. 174), and Home and Garden TV's If Walls Could Talk.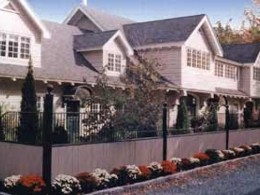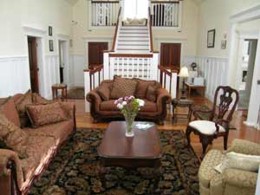 Accommodations
Our 3 exclusive suites include marble baths, with either a two person jacuzzi, a marble double shower, or both. Elegant fabrics, hand carved four posters, robes and slippers for the pool, and a fireplace. Chiltern Inn is a favorite for those who wish to share a romantic celebration in the relative privacy of this spacious yet exclusive inn. We rent only 3 rooms, so the house belongs to you. That includes the library loft, the great room, the fireplace living room, the art gallery with grand piano, the home theater with 10-foot tv projection for your DVD or favorite show.
Breakfast
Breakfast is designed, and often prepared by owner Joan A. Mills, and features generous portions of our famous veggie omelettes, or raspberry crepes, or Maine blueberry pancakes, plus fruit cup, onion potatoes au gratin, juice, coffee and tea, in a sunny dining room at a family style table. Wine and cheese is set out each evening in the fireplace living room. Cold beverages as well as tea and coffee are always available.
Local Attractions
Acadia National Park, which is walking distance from the Chiltern Inn boasts the most spectacular bold ocean frontage in America, and is truly one of the most memorable destinations in world. Bar Harbor has been historically the summer home to the fabulously wealthy, and Acadia was the gift of the likes of John D. Rockefeller to the nation. Hike the easy to moderate mountains with ocean views, bike the 70 miles of carriage paths, kayak or take nature cruises and whale watch trips from Bar Harbor, view lighthouses, and go "rocking" along the granite shoreside ledges. Don't miss Thunder Hole, Otter Cliffs, and the auto road to the top of Cadillac Mountain.
Of Special Interest
Enjoy our indoor spa, which includes a 32' lap pool, 12 person jacuzzi, sauna, and fireside seating.