Chanticleer Guest House
4072 Cherry Road
Sturgeon Bay, WI 54235
(920) 746-0334
(866) 682-0384
(920) 746-1368
Price Range: $120 - $350

Located on seventy private acres in beautiful Door County, The Chanticleer Guest House is one of Wisconsin's most unique bed and breakfasts. Our circa 1915 farmhouse and barn have been carefully renovated to provide all the comforts of home, while capturing the beauty of each original structure. We offer eight bed and breakfast suites, and four luxury cabins for rent, throughout the year. Our guests enjoy romantic walks through our wooded hiking trails and we are the only bed and breakfast in Door County with an in-ground, heated swimming pool. Beautiful flower gardens, wildlife ponds, exceptional bird watching and a working sheep farm make the Chanticleer an excellent destination for nature lovers.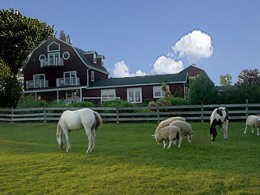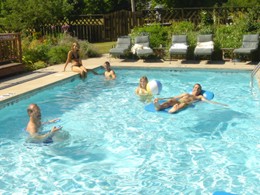 Accommodations
All eight of our bed and breakfast suites include private bathrooms, double whirlpool tubs, fireplaces, complete entertainment centers and private balconies. King or queen sized beds, period antiques and comfortable furniture also compliment each suite. Our four luxury cabins offer the same amenities, as well as full kitchens, gas grills and porch swings. Our delicious, homemade breakfast is included each morning and all of our accommodations are smoke free.
Breakfast
Our homemade breakfast is delivered to each suite between 8:00 and 10:00 a.m. every morning. We try to use locally grown and organic ingredients as much as possible, and all of our breakfast items are prepared on-site. Door County cherry muffins, apple stuffed french toast and ham strata are guest favorites. Breakfast also includes a side dish of fresh fruit, strawberries and cream or fruit and yogurt. Fresh brewed, organic Door County coffee and orange juice completes each breakfast. Dietary restrictions are always respected and we are happy to prepare vegetarian options for our guests.
Local Attractions
Door County is most widely known for it's natural beauty. Often called the "Cape Cod of the Midwest", the county was designated as one of the top ten vacation distinations in North America, by Money Magazine. The entire county is the main attraction and travelers to Door County can enjoy scenic shoreline, cherry orchards, farm fields and beautiful wooded areas. One of the most beautiful areas, and one we recommend all of our guests to enjoy, is Cave Point County Park. It shows the rugged beauty of Door County like no place else.
Of Special Interest
Summers are gorgeous in Door County and we offer an in-ground, heated pool for all of our guests to enjoy from mid-May until mid-September.