Chamberlin Inn
1032 12th Street
Cody, WY 82414
307-587-0202
1-888-587-0202
Price Range: $115 - $265

Located steps from Cody's historic main street, the Chamberlin Inn includes a small boutique hotel, the court house residence, the cottage, and the garden studio apartments, all gracefully nestled within a beautiful brick and wrought iron enclosure, creating a perfect garden setting for a leisurely cup of tea, a sip of wine, a game of croquet or a fully catered wedding. This family-owned and operated 24-unit boutique property has been entirely renovated in 2005 - 2006.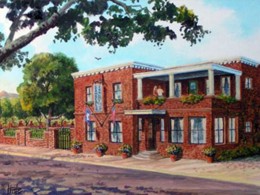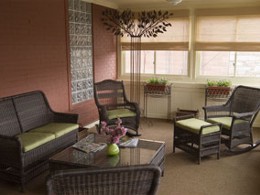 Accommodations
All rooms include flat-screen TVs as well as direct wireless high-speed internet access. Each room has fresh flowers and Belgian chocolates on the pillows. The bathroom amenities consist of Italian soaps & French lotions. Most of the bathrooms have the original clawfoot tubs and corner sinks.
Breakfast
Dining at a whole host of fun, customer-service-oriented restaurants is all part of the Cody Experience. Bon appetite. We recommend The Noon Break and Peter's Cafe.
Dining
When it comes to eating in Cody Country, one would expect to find excellent steaks, prime rib, ribs and burgers, and one would not be disappointed. This is, after all, beef country. You'll enjoy Wyoming Rib and Chop, which is only a block away from the hotel.
Local Attractions
Cody is home to one of the country┐s supreme cultural attractions┐the five museum complex of the Buffalo Bill Historical Center. Its third of a million square feet of exhibition space certainly makes it one of America┐s largest museum complexes. Go to: www.bbhc.org for more information.
Of Special Interest
Our courtyard is the perfect setting for a reception or a wedding.