Casa Sedona Bed & Breakfast Inn
55 Hozoni Drive
Sedona, AZ 86336
928-282-2938
800-525-3756
928-282-2259
Price Range: $189 - $299

Tucked away at the base of Sedona's tallest red rock peak (Thunder Mountain) on an acre of juniper and pines, Casa Sedona is an elegant, nationally recognized adobe-style bed and breakfast. Designed by a protege of Frank Lloyd Wright, this inn offers spectacular views of some of Sedona's most famous red rock formations. Roam the grounds where explosions of crimson and violet grace the gardens. Hundreds of roses are interspersed with splashes of Wisteria, Sage, and Mexican poppies. Watch roadrunners scurry by, or hummingbirds stop for nectar, as you greet the day from your own private patio or balcony. Sway in the afternoon in the romantic, if not nostalgic, bench swing and drink in sun and silence before evening hors d'oeuvres. And after dark, soak in the outdoor hot tub and contemplate an indigo sky matted with a billion stars or a full moon crawling over nearby mesas. Casa Sedona is the only Sedona lodging featured on Travel Channel's "Best of the Best Hotels and Small Inns", Spring 2003. Casa Sedona is proud to have received AAA's 4-Diamond award for 7 years.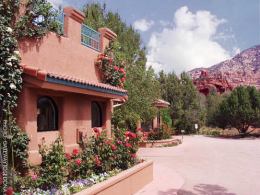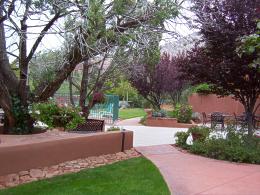 Accommodations
Stay in one of our sixteen richly decorated and uniquely themed rooms from cowboy to lace. Rest in the romantic "Sunrise" room, Victorian-style with a draping lace demi-canopy over the bed, an oval mirror, and a terrace overlooking the majestic Mogollan Rim. Other rooms include the "Cielo Mar", or "Sky Sea", with a dreamy watercoloresque flavor, the "Trickster Den", designed by the famous mime Robert Shields, entirely with his whimsical, magical d'r and art or the "Navajo" room, featuring Native American pottery, paintings, and dream catcher. Rooms are inviting and spacious, complete with spa tubs and fireplaces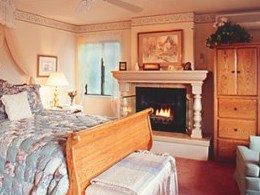 Breakfast
Mindfulness, care, and heart go into every detail here at Casa Sedona. Oranges are sliced into shapes of butterfly wings, and leaves and flowers from our garden decorate your plate. You?ll enjoy two-course breakfasts served to you every morning starting with juice and French Roast coffee. Everyday is a different breakfast menu such as homemade Peach Cobbler or Cinnamon Pecan Scones with fresh fruit, before moving on to such gourmet delights as Banana Pecan Streusel French Toast with Amaretto Sauce or Quiche Verde or ...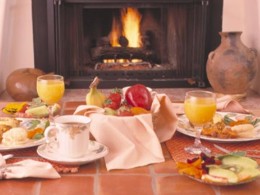 Local Attractions
The major attraction in Sedona is the scenery. Join us on our sun terraces for absolutely priceless views of Thunder Mountain, Cathedral Rock, Chimney Rock, Lizard Head, Coffee Pot and the expanse of the Mogollan Rim. And to be here when the full moon rises over the rim is spectacular!