Capps Cove Bed and Breakfast
4126 County Highway 27
Oneonta, AL 35121
205-625-3039
800-583-4750
Arriving at Capps Cove is like coming upon a hidden 19th century settlement. Shaded grounds and well-tended gardens connect a cluster of handcrafted buildings ┐ a secluded retreat created a decade ago by Cason, Sybil and Cindy Capps, and reflecting their love of antiques and simple pleasures. Historical architecture with contemporary amenities.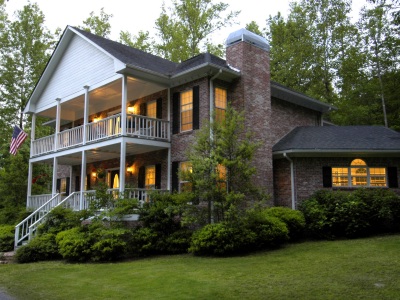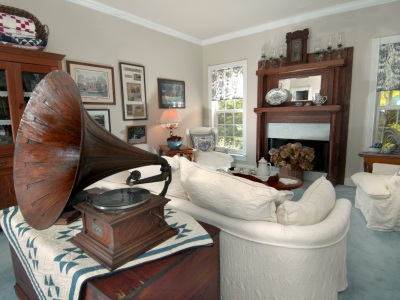 Accommodations
The two cabins in Capps Cove will bring back an era long ago. Light a fire, rock awhile, swing awhile, listen to the birds, listen to the quiet. Capps Cove offers two comfortable bed and breakfast guest rooms in the main house.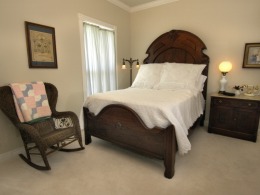 Breakfast
Breakfast at Capps Cove changes daily. You may have eggs, bacon, hash browns, stone ground speckled grits, biscuits, bagels, scones and English muffins as a main course; but it won't stop there ┐ a bowl of berries and cream, berry-stuffed blintzes or crepes will complement the meal.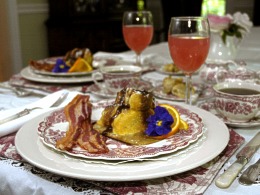 Dining
A wonderful Gourmet restaurant "The Landmark" is located only nine miles from Capps Cove. Steaks, sea food, French sauces, and great desserts to finish your meal.
Local Attractions
Blount County is the "Covered Bridge Capitol of Alabama" with three historical, easily accessible bridges near Capps Cove. Horton Mill Bridge, the highest covered bridge above water in America. Easley Covered Bridge, the oldest bridge in the county. Swann Covered Bridge, the longest covered bridge in the state.
Of Special Interest
Come to Capps Cove for a unique and memorable wedding experience. Let the peace of the old country church in the woods provide a relaxing backdrop for your special day. Nestled in our 21-acre cove, the little white chapel behind the picket fence is a quaint location with great photo opportunities.