Brewster By The Sea B & B
716 main Street
Brewster, MA 02631
508-896-3910
800-892-3910
Price Range: $125 - $325

A sense of graciousness and gentility abounds as you approach Brewster By The Sea Inn and Spa. This award-winning, romantic Country Inn is one of Cape Cod's finest Bed and Breakfasts. Situated in the heart of Brewster's Historic District, the Inn's convenient Main Street location belies the peaceful solitude of this expansive property. Step through the front door into the fireplaced gathering room, and experience the joy of instantly feeling "at home". We always personally greet our guests and give a guided tour of the premises. Step outside with us, through the gathering room's glass doors, to an endless expanse of planked decking adorned with seasonal flowers and an assortment of intimate seating. Continue past our outdoor breakfast area to our inviting pool and spa, encircled by comfortable chaises, umbrella tables, chairs, and a wall of breathtaking blue hydrangeas. It is the perfect spot to while away a sunny Cape Cod day! The spa is open year round and is perfect for late night romantic stargazing.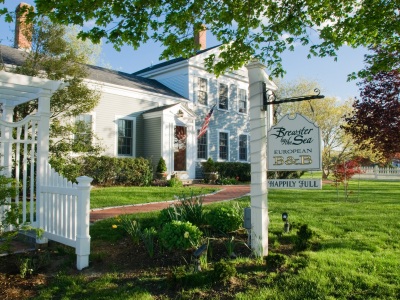 Accommodations
The inn is European inspired since the innkeepers spent many years abroad and appreciated English Coutry decor along with many European luxeries such as feather like fiber beds and down comforters. Each of the rooms are tastefully decorated and include air conditioning, free long distance, WIFI, cable TV and HBO, hair dryers, irons, bath robes and luxerious soaps and lotions. Many of the rooms include fireplaces, single whirlpool tubs and spacious sitting areas. The inn also has a heated pool, outdoor hot tub and spa services on the property. Guests can chose from Queen or King bedroom that all include private tiled bathrooms.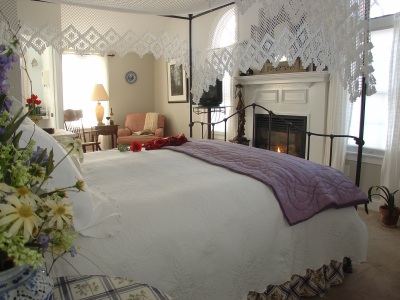 Breakfast
Breakfasts are a special time at the inn and are served between 8-10, fireside in the gathering room or on the back patio that flanks the pool and gardens. Guests enjoy fresh squeezed orange juice, a freah fruit course and a main course that is sweet one day and savory the next. Homemade granola and yogurt and herbed scrambled eggs are always available as substitutions. Each breakfast is always homemade using many fresh herbs from the inn's gardens, with some guests favorites including Bavarian Popovers with fresh strawberries, Baked Apples and the Inn's specialty breakfast paninis. Afternoon tea is served at 4 pm and includes many fresh baked delights such a plum tortes, brownies and chocolate chip coconut cookies.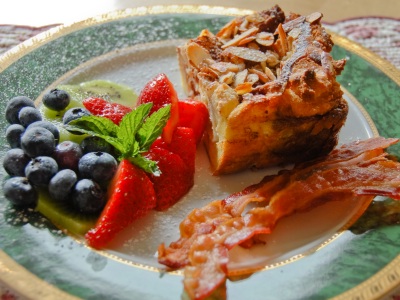 Dining
Foodies love the inn's central location since many excellent restaurants are close by including the French Chillingsworth, the Brewster Fish House and the innkeepers favorite- Bucas, which is a Northern Italian restaurant in Harwichport. Fresh seafood which includes,sea scallops,clams,the famous Wellfleet Oysters and Sea Bass are always a treat. Other favorite restaurants include Nappi's and the Lobster Pot in Provincetown, Mahoneys which is an upscale Irish Pub and restaurant in Orleans adn the local hangout, the Lost Dog Pub!
Local Attractions
Brewster is central to just about everything on the Cape. Guests enjoy both Atlantic and bay beaches, whalewatching, bike riding on the Cape Rail trail, the Natural History Museum just up the street from the inn, Audubon Society in Wellfleet and day trips over to Nantucket and Martha's Vineyard.The area also includes many antique and art galleries which are located along the picturesque Old King's Highway.