Boulder Dam Hotel
1305 Arizona Street
Boulder City, NV 89005
702-293-3510
702-293-3093
Price Range: $69 - $119

The historic Boulder Dam Hotel is a charming, unique, Dutch Colonial-style hotel in the heart of the historic district of clean, green Boulder City, Nevada. Built in 1933 to accommodate visiting government and corporate project managers supervising the building of Hoover Dam, the Boulder Dam Hotel quickly gained a worldwide reputation from a steady flow of dignitaries and celebrities. It was named to the National Register of Historic Places on August 19, 1982. Today, the hotel features such modern amenities as wireless internet access and a state-of-the-art air purification system -- all in a well-maintained historical setting.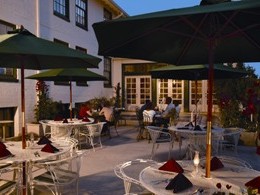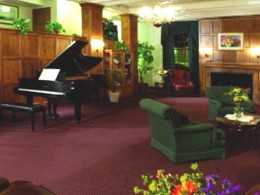 Accommodations
The Boulder Dam Hotel has 20 well-appointed, comfortable guest rooms that offer Sealy Posturpeadic Caberet mattresses, extra pillows and blankets, air purifiers, complimentary bottled water in room, free breakfast and wireless internet access.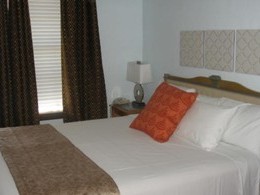 Breakfast
Breakfast is included in the room rate. A continental breakfast is served in the lobby and on the front patio.
Dining
Matteo's Fine Casual Dining, located just off the lobby, serves lunch and dinner daily. Matteo's offers a complete menu of sandwiches, salads, dinners and deserts.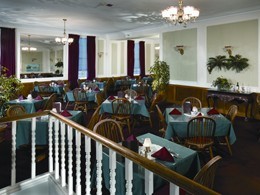 Local Attractions
One of the engineering wonders of the modern world, Hoover Dam, is located just seven miles from the hotel. Lake Mead, created by Hoover Dam, offers swimming, hiking, fishing, sight seeing, horseback riding, dinner cruises, rafting, etc.
Of Special Interest
The Boulder Dam Hotel is owned by The Boulder City Museum and Historical Association and houses the Boulder City/Hoover Dam Museum and Gift Shop. With a full-time curator on staff, the museum captures the "human drama" associated with building the dam. The hotel also houses The Boulder City Art Guild Gallery and three unique shops.