The Blue Hill Inn
40 Union St.
PO Box 403
Blue Hill, ME 04614
207-374-2844
800-826-7415
207-374-2829
Price Range: $128 - $285

The small village of Blue Hill wraps around the head of Blue Hill Bay and is centrally located for exploring Acadia National Park, Deer Isle, Castine and the DownEast and mid-coast areas. The multi-chimneyed, clapboarded historic Inn has been the village hostelry since 1840 and is a short walk from the village center, Blue Hill Bay, Blue Hill Mountain, art and antique galleries and Kneisel Chamber Music Hall. Hors d¿oeuvres, fireplaces, air conditioning, afternoon refreshments, fine wines. Wine Spectator Award for 6 years.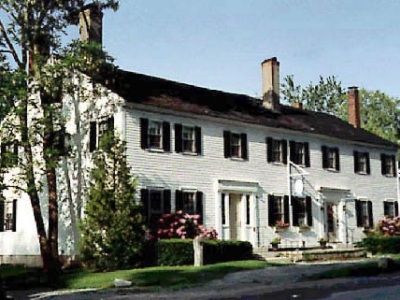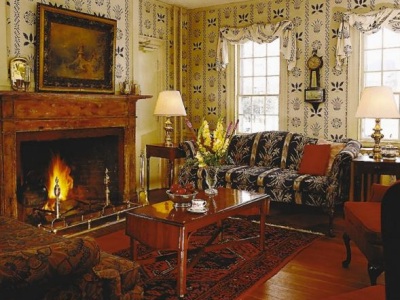 Accommodations
A sun-filled breakfast room, fireplaces, living rooms with antique floors and oriental rugs, turn-down service, and cocktails in the garden create an intimate atmosphere for relaxation. Eleven guest rooms are located in the Inn, each individually furnished, some with wood-burning fireplaces, some with sitting rooms, all with original floors, 6 over 6 paned windows, down comforters, fine linens and private baths. Most have a king or queen size bed, but one has a double bed with a sitting room and another has twin size beds. The spacious Cape House Suite is located in an adjacent cottage, and has an open design with a large bedroom-living room area, wood-burning fireplace, kitchen, bath, and deck. The light and airy suite has pine floors, cathedral ceilings and large windows and is a perfect setting for romantic get-a-ways, as well as, a family with children.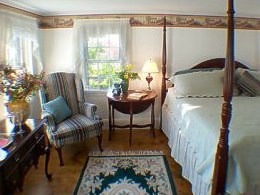 Breakfast
A multi-course breakfast is served in the sun-filled dining room from 8 to 9:30 am, with early morning coffee and tea available at 7 PM. Courses include freshly cut fruit, juices, baked pastries, and a selection from five entrees. Regular entree offerings include Maine blueberry pancakes; waffles with Vermont maple cream, fresh strawberries, or sauteed apples; omelettes with various fillings such as brie and sweet roasted red peppers, feta and spinach, wild mushrooms and monchego cheese; scrambled eggs with freshly cut chives or other herbs; tomatoes and peppers; crepes with various fillings; and the Inn's granola sweetened with native dried cranberries. Coffee beans are ground just before brewing and tea is served the proper way, with loose tea steeped in freshly boiled water served in fine china teapots. Guests with early departures can arrange for a breakfast tray. Allergies and dietary restrictions are easily accommodated.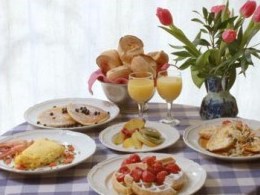 Dining
The Inn serves dinner only four times a year during its wine dinner weekends. These Saturday evening candlelit dinners featuring seven courses and five wines are offered once in June, July, September, and October. Advance reservations are necessary. For other dinners the Inn's guests enjoy several local restauants especially Arborvine, a romantic restaurant in a beautifully restored early 19 c. home with pine flooring, fireplaces, oriental carpets and flickering candlelight. The chef/owner John Hikade has a wide repertoire of creatively prepared dishes with duckling, Maine seafood and shellfish, and risotto favorites of our guests. Service is impeccable and gracious.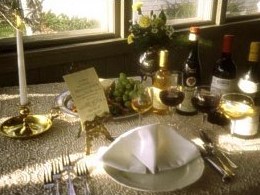 Local Attractions
Acadia National Park is the second most visited national park in the country and is located an easy drive from the Inn. Located on three different islands, Mt. Desert Island, Long Island, and Isle au Haut, and on the Schoodic Peninsula the Park is a spectacular combination of open, rugged ocean coastlines, mountains, lakes, hiking and biking trails. Shaped and formed by glaciers Mt Desert Island has numberous bodies of water, including ponds, lakes, and the fiord of Somes Sound, as well as, seven mountains, including Cadillac Mountain the tallest on the eastern coast and the site of the first sunrise in the United States. Scenery, lighthouses, hiking, biking, nesting Peregrine Falcons, boating are just some of the highlights. Isle au Haut, an island half of which is owned by the Park, accessible by ferry from Stonington, is a secluded wonderland for biking, hiking and deserted stone beaches. Schoodic Point, an hour from the Inn, is God's world with hugh granite boulders extending into wild and open ocean and soaring sea gulls. Long Island with a recent conservation easement obtained by the Park is in Blue Hill Bay and is accessible by kayak, perfect for hiking or picnicking.