Blackfork Inn Bed & Breakfast
303 North Water St
Loudonville, OH 44842
419-994-3252
Price Range: $75 - $140

The Blackfork Inn is a Victorian townhouse in a small town setting, offering an elegant getaway -- a place for pampered relaxation as well as a convenient location for exploring the beauties of Mohican Country. Nearby, there are two state parks, Mohican and Malabar, and the wonderful Amish settlements with good down home cooking and cottage industries: quilts, cabinets, clocks and dolls. The Loudonville area is famous for its canoeing but also offers riding, hiking, golf, tennis and skiing.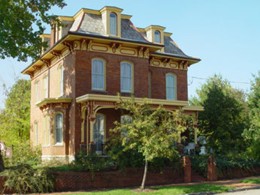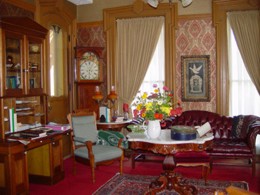 Accommodations
Blackfork Inn boasts many pleasures, inside and out, with two separate Victorian structures and plenty of gardens and porches. Two suites are located in The Annex, an 1847 structure that's played numerous roles: first, a private home, then a railroad saloon, and, later, an evangelical church! It's across the street from The Main House, an 1865 Italianate treasure with massive woodwork,impressive wall-coverings and a stunning array of antique books and furnishings. In The Annex, both Suites have sitting rooms and breakfast rooms, with provisions to make your own coffee and tea. In The Main House, all six guest rooms have private baths. Guests can enjoy the parlors and the formal dining room, where coffee is available every morning, as early as 5 a.m.! A spacious front porch and patio gardens offers choice seats in good weather, an opportunity to commune with the abundant hummingbirds and butterflies.
Breakfast
We arrange with local farmers to provide fresh berries, peaches, apples, melons -- all the bounty of an Ohio summer. And we work with local Amish to provide home-made flavorful favorites, such as artisan cheeses and trail baloney. Our breakfasts often end with pie for dessert. That's an Amish custom we highly endorse!
Local Attractions
Loudonville is famous for its beauty. And its many activities, from hiking, biking and horseback, to canoing in summer and skiing in winter. Plan to spend at least a day touring Amish Country. And another day on the trails at Mohican State Park.