Beechwood Inn
P.O. Box 429
220 Beechwood Dr
Clayton, GA 30525
706-782-5485
866-782-2485
Price Range: $179 - $199

A Romantic Georgia Bed and Breakfast Inn Located in the North Georgia Mountains on the Georgia Wine Highway. The Beechwood Inn is an Eco Friendly Inn. You have not experienced the hospitality of the North Georgia Mountains until you have stayed at the Beechwood Inn - Georgia's Premier Wine Country Bed and Breakfast Inn The Beechwood Inn is Georgia's Premier Wine Country Inn and offers luxury accommodations in the North Georgia Mountains. This Georgia Bed and Breakfast was voted ¿Best Inn in North America for a Weekend Escape - 2006.¿ Filled with antiques and primitives, yet warm and inviting, Beechwood Inn is altogether homey and comfortable. Food and wine enthusiasts will want to experience wine weekend packages and culinary events at the Beechwood Inn, when celebrated wineries, winemakers and chefs from around the world collaborate to expand guests' epicurean horizons. The Inn offers cooking and culinary classes for novice and expert alike. Nearby mountains, trails and rivers offer activities and experiences for a lifetime of memories. Explore mountain villages; raft the Chattooga River, hike to a waterfall or drive along bucolic country lanes. History buffs will want to visit the Foxfire Museum. Close to three mountain golf courses. Romantic guest rooms have fine linens, private porches or balconies and fireplaces, wonderful views, and cozy privacy.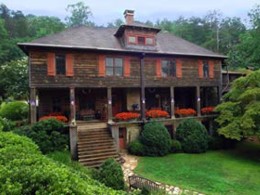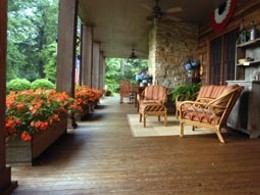 Accommodations
Our spacious guest rooms have private baths, ceiling fans, working fireplaces, and air conditioning. The 1920¿s cottage ambience includes antique and folk art, original heart pine floors, antique rugs, period furniture and reproductions. Our king and queen size beds feature luxurious 600 thread count sateen linens and quilts appropriate for each season to ensure a restorative night's sleep. Each room also has high quality soaps and shampoos, soft warm robes, CD player and CD's, clock, iron and ironing board and hair dryer, free highspeed wireless Internet.
Breakfast
BEECHWOOD BOUNTIFUL BREAKFAST: Enjoy a wonderful gourmet beakfast each morning with freshly baked muffins, scones and pastries, fresh fruit and a hot entree. Freshly brewed coffee (you can buy our Coffee Online) and herbed teas. Northeast Georgia is famous for its Orchards and Gardens - so we feature the freshest local produce, jams and fruits.
Dining
Fine Dining and Receptions. The Beechwood Inn is a licensed restaurant and can prepare gourmet meals for you and your friends. Innkeepers Gayle and David Darugh have professional training and many years of experience as chefs. They can assist you in planning a wine and gastronomy event that will be memorable and romantic. Small intimate groups (6 -14) our are specialty, but we can also host larger groups of up to 24 at the Inn. Our specialties include Mediterranean, Traditional Southern, California Nouveau, Pacific Rim and Sante Fe style dinners. Call or email us and we will send you a sample menu. We also work with several caterers that can assist you in planning for larger parties. Advance reservations are required. Prix Fixe Dining: Typical 5 course Prix Fixe Dinners with 4 matching wines cost about $75-85 dollars per person (depending on the entree), plus tax and gratuity.
Local Attractions
RABUN BALD: Rabun Bald, with an elevation of 4,696 feet, is the tallest mountain in Rabun County and the second-highest peak in Georgia. It¿s elevation is second only to Brasstown Bald at 4,784 feet. An observation tower on the summit of Rabun Bald provides hikers with views that, on clear days, extend for more than 100 miles. The hike to the top of Rabun Bald is four miles round trip via the Rabun Bald Trail, a part of the Bartram Trail. According to Native American legend, Rabun Bald is inhabited by fire-breathing demon people. Some campers still report hearing strange sounds throughout the night. Rabun Bald was the site of the first tower in the area, which was constructed by Ranger ¿Nick¿ Nicholson, the first forest ranger in Georgia.
Of Special Interest
The Beechwood Inn features a 2,500 bottle wine cellar with Wines from Around the World. Wine Tastings: Would you like a personal wine tasting for you and your friends? The Beechwood Innkeepers can set up beginer, intermediate or wine tastings for experienced winetasters. Just let us know what your interests are and we will exceed your expectations. Costs for special wine tastings start at $15.00 per person. Beechwood Inn Wines: The Beechwood Inn is proud to offer its own wines by the glass made from Georgia and Oregon Grapes: 2005 Beechwood Inn Chardonnay (No Oak) (Georgia) 2006 Beechwood Inn Chardonnay (American Oak) (Georgia) 2006 Beechwood Inn Chardonnay (French Oak) (Georgia) 2006 Beechwood Inn Viognier (Georgia) 2004 Beechwood Inn Cabernet Sauvignon (also available are vintages 2000, 2001, 2002 and 2003) (Georgia) 2005 Beechwood Inn Pinot Noir (Made from Oregon Grapes)