Hamilton House Bed and Breakfast
328 West Main Street
Whitewater, WI 53190
262-473-1900
Price Range: $90 - $175

The Hamilton House Bed and Breakfast is well suited for romantic weekend getaways or small inspiring business retreats and off-site meetings. Enjoy a parlor game in the common areas. Settle into a luxurious guest room with privet bath, fireplace and/or whirlpool tub. You can stroll the downtown shops and dine in a number of restaurants. Enjoy the Fireside Dinner Theater, The Irvin L. Young Auditorium or one of many Wisconsin University cultural events. The surrounding area provides you with some of the best bicycling, horseback riding, hiking or cross-country skiing in Kettle Moraine State Park. Hang gliding is also a popular sport in the area and lessons are available. There are 4 lakes close by for water sports and the Lake Geneva Recreation Area is also near. Other attractions include golf, Alpine Valley Music Theater & Resort, shopping in the many antique stores or a visit to historical Old World Wisconsin or the elegant Farmers Market. This beautiful historic Inn is one of Wisconsin's best examples of Second Empire French architecture, featuring a mansard roof. A convenient getaway nestled in one of Wisconsin's most popular recreation areas, but an easy drive from three major cities. You will find Hamilton House prominently situated on Main Street in Whitewater. Whitewater is situated on US Highway 12 between Madison and Lake Geneva.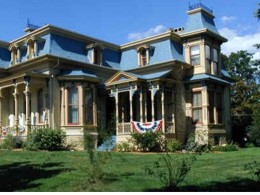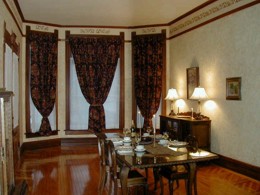 Accommodations
Our goal is to make your stay with us an occasion to remember. Your stay at the Hamilton House Bed and Breakfast includes early coffee service, a full breakfast as well as refreshments through out the day. A Refreshment center stocked with beverages and a variety of ¿nibbles¿ is conveniently located in the guest area. The Refreshment center features a microwave and refrigerator that are accessible to guests at all times. Freshly baked Confection of the Day or other indulgence and beverage welcome you each afternoon. Enjoy the convenience of personal Concierge services. Forgot something, just ask. We are happy to make dinner reservations for you or arrange for dinner to be ordered in. We are happy to assist in making arrangements for activities in the area. Relax and unwind as the innkeepers take care of the details. Enjoy quiet time together as a couple on the Gazebo porch. Soak up the sun during a game of Bocce Ball or Crockett. Swing away the cares of everyday life in the shade of the back garden. Just bring your clothes and a bottle of wine. Rooms are complete with Shampoo, soap, candles, and CD player. For your convenience we have made available; Tea, coffee, and soda. Popcorn and munchies. Wineglasses, openers and stoppers. Picnic baskets. Hair dryer, iron, and ironing board. Books, games and music. We endeavor to see that the details have thoughtfully been attended to. If we can do something to make your stay more comfortable, just ask. We will make every effort to accommodate all requests. Your imagination is the limit.
Breakfast
Follow the aroma of a fresh, homemade breakfast to the formal dining room. Chef¿s Choice of hot entrée, meat, fresh fruit, juice and scrumptious dessert await your arrival each morning. Sample Sunday menu: Stuffed French toast, fresh butcher¿s sausage links, golden pineapple, fruit sorbet and orange juice Sample Saturday menu: Shirred eggs, toast, breakfast meat loaf, mango, baked apple and mock bloody Mary. Sample Midweek menu: Scrambled eggs, chicken sausage, scones, grapes, and juice.
Dining
A wide variety of restaurants offer a wide range in dining choices. Our local favorite is Randy's, which features an onsite microbrewery. Great steaks, assorted salad bar, and decedent desserts keep us coming back.
Local Attractions
We are just a few short miles from the Southern unit of the Kettle Moraine State park. Hike or bike the rugged glacial hills and varied wet lands. Explore the remnants of some of Wisconsin's rarest plant communities, such as prairies and oak openings. Wildlife ranges from whitetail deer and wild turkes to badgers and bluebirds, as well as sandhill cranes. Visit the the Forest Headquarters / museum and join a Naturalist lead hike.