Barley Sheaf Farm
5281 York Road
PO Box 10
Holicong, PA 18928-0010
215-794-5104
215-794-5332
Price Range: $250 - $525

When did you last pick wildflowers in a meadow, take a really deep breath of redolent country air, or enjoy a tranquil pondside moment of introspection with wild geese and sheep to keep you company? If it's been a while, come to Barley Sheaf Farm. Rediscover the luxury of having acres upon acres of storybook countryside virtually to yourself. Stroll along quiet country roads winding their way through undulating hills, woods, and green pastures. And succumb to hospitality at its finest: whether you're in an outgoing mood or prefer absolute privacy and seclusion, your hosts at Barley Sheaf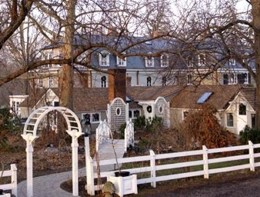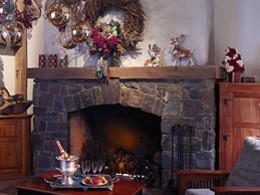 Accommodations
In the main building, which was built around 1740, the Farm offers gracious accommodation in one comfortable suite, three deluxe rooms and three tastefully appointed rooms, each with its private bath facilities. In addition the deluxe rooms feature eighter Jacuzzi baths or fireplace and our suite offers a private sitting room, with fireplace and Jacuzzi bath. Three additional theme rooms with private baths in our charming cottage evoke reminiscences of country living. Escape to a truly pastoral retreat in our renovated barn with long-distance, tranquil views of horse farms and meadows. All rooms are very spacious and feature private baths, sitting corner or private living rooms fridge and coffee maker. Relaxing by the Vermont stove or in the two person Jacuzzi makes for a perfect romantic getaway. The "Farmer's Den" is our spectacular signature suite offering a private living room with cathedral ceiling, walk-in stone fireplace, 2-person Jacuzzi, private bath with multiple jet shower, wetbar with microwave oven and refrigerator. You will have a good night's rest in the loft's king bed and relax on the private deck.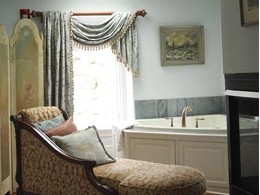 Breakfast
As befits a bed & breakfast inn, we place great emphasis on cuisine and service for that all-important first meal of the day. Depending on the time of year, your selection will include fresh seasonal fruit with yogurt and granola or typical farm-style fare such as stuffed baked apples. The main course might be fresh farm eggs, scrambled and served with salmon, or a sweet pepper and onion frittata, ham or sausage, complemented with a variety of fragrant, home-baked breads, homemade jams and genuine farm honey. Coffee is always freshly brewed. Breakfast is served in the Farm's rustic brick-floored dining room and sun porch overlooking lovely lawns, the swimming pool, and the idyllic pond. Weather permitting, afternoon tea is served outdoors in a refreshing garden environment. In winter, you can soak up the gentle warmth of the crackling flames in the fireplace as you savor our creative teatime treats. If it's been a while, come to Barley Sheaf Farm. Rediscover the luxury of having acres upon acres of storybook countryside virtually to yourself.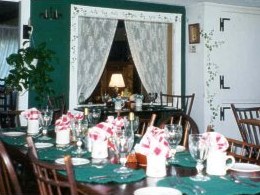 Dining
As a Bed & Breakfast Inn we do not serve meals other than our wonderful country breakfast. However in Bucks County we are blessed with a host of outstanding restaurants. You have a wide selection of different cuisine, athmosphere and settings within a short distance from the Inn. We have all their menu's on hand and can help you with reservations. We have also a personal dining guide created by Innkeeper /Owners Christine Soderman and Lola Liebert to help you with your dining choices during your stay with us.
Local Attractions
When you decide to take a break from the hustle and bustle of everyday life, it's only natural that you will want to indulge in your favorite pastimes. Bucks County is a wonderful area to do just that. So when you're set to venture outside the rambling property of Barley Sheaf Farm, there's plenty to do and see. Just to the east of Holicong lies New Hope, internationally known as a vibrant art colony. Here, you can also travel the picturesque Delaware canal by mule barge or ride a real old-fashioned steam train. You can browse in antique shops, sifting through the past of a region with a rich history. If you like performing arts, you will enjoy the diversity of dramas, musicals and comedies featured by the theaters and playhouses in New Hope, Doylestown, Buckingham, and Newtown, to mention just a few. You can tour beautiful country estates along the Delaware River, visit Washington Crossing Historic Park or the 300-year-old colonial village of Fallsington. Hot-air balloon rides, boating, tubing and fishing, jogging, biking and horseback riding will appeal to those of our guests who like active leisure. During the winter, cross-country skiing and skating are popular. All year round, the 18th-century-style Peddler's Village in nearby Lahaska, with its 70 shops and seven restaurants huddled along brick pathways, is a tempting treasure chest of collectibles from all over the world. Just tell us what you like to do in your spare time and we'll make informed recommendations. In terms of dining, wining, and entertainment, Bucks County is full of exciting surprises. Let us tell you where to find them.