Aurora Staples Inn
303 North 4th Street
Stillwater, MN 55082
651-351-1187
1-800-580-3092
651-351-9061
Price Range: $129 - $249

The Aurora Staples Inn Bed and Breakfast is located in historic Stillwater, Minnesota on the beautiful St. Croix River. This landmark home is a Queen Anne Victorian built by Isaac Staples in the 1890's for his daughter, Aurora. Her husband, Adolphus Hospes, was a Civil War Veteran and survivor of the famous First Minnesota charge at Gettysburg. The Inn is elegantly decorated to reflect the Victorian era. A spacious hall, showcase Victorian Parlor, and book-filled Library with original wood burning fireplace are open to guests. A wide front porch beckons you to rest awhile. A full 3-course breakfast is served in the formal dining room. An open oak staircase leads to the four guest rooms on the second floor. The fifth room is in the Carriage House, just behind the Inn. Rooms are air conditioned, have their own private bath, fireplace and whirlpool, and are furnished with fine art and antiques.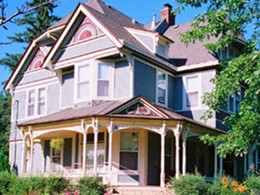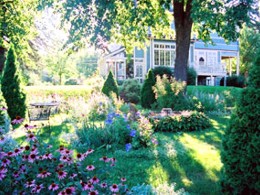 Accommodations
All rooms are double occupancy and have large double whirlpool tubs, fireplaces, and private bathrooms. Each has an AM/FM/CD player, sitting areas to read a book or relax. Wine and hors d'oeuvres are served upon check-in either in the library/parlor areas or in your room. A Game Room is available with TV/VCR/DVD, games, puzzles, etc. The Inn is air conditioned in the summer. In-house massage is available upon request. The Inn also does weddings and receptions as well as gift certificates.
Breakfast
A three course breakfast is served in the Dining Room at 9:00 am, and we offer a tray with coffee and warm muffins in your room at 8. In the warmer seasons, breakfast will be offered out on the front porch.
Local Attractions
Stillwater is a historic town, the oldest in Minnesota with many antique shops, book stores, and gift shops. Walk along the St. Croix River, enjoy many wonderful restaurants and coffee shops, or sip a glass of wine at the wine bars. Summer activities include the Paddle boats on the St. Croix, the Gondola and Trolley rides. Winter sking and Christmas events bring people to town all year round.