Apple Orchard Inn
7758 County Road 203
Durango, CO 81301
970-247-0751
800-426-0751
970-385-6976
Price Range: $90 - $210

The Apple Orchard Inn is located in the Animas Valley, just eight miles north of Durango, fifteen minutes away from downtown and just twenty minutes away from Durango Mountain Resort. Located on five acres of manicured grounds and gardens with two ponds filled with Rocky Mountain Rainbow Trout. The Apple Orchard Inn is one of only three bed & breakfast inns to receive the AAA Four Diamond Award for Excellence in the state of Colorado.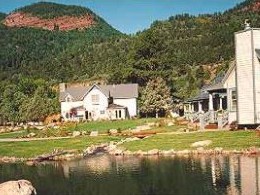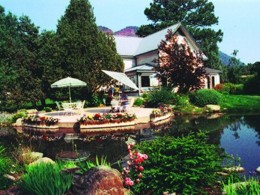 Accommodations
You will delight in the quality accommodations found at the Apple Orchard Inn. The main house with its four guest rooms, all with private bath of course, each have a view to the mountains and gardens. The six cottages are very private, each with their own front porch complete with swing and rocking chairs. Some cottages even have a private back patio. Each room and cottage is uniquely decorated, each with quality furniture, featherbeds, beautiful linens.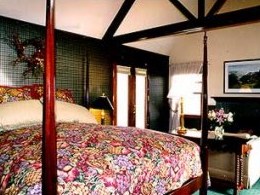 Breakfast
Guests don't skip breakfast at the Apple Orchard Inn. With flexible dining times, 7:30 a.m. to 9:30 a.m., you can have an early start to the day or be lazy and catch the last table at breakfast. Each day brings a new treat. Owner/Innkeeper Celeste Gardiner cooks for each guest as they come in for breakfast. Homebaked goodies are present each day. You can dine in the breakfast room or when weather permits out on the patio where you can watch ducks paddling around and the hummingbirds coming and going. Afternoon goodies include freshly baked Triple Chocolate Chip Cookies, savory snacks, and complimentary beverages, including wine and beer.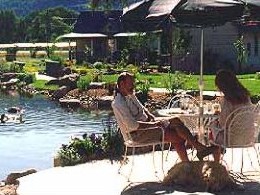 Dining
Gourmet dinners are available with advance reservations. A private dining room will make your evening very special. There will be no waiters rushing your dinner this night. You will pick your menu prior to the evening, choosing the entree and dessert. Specialties include Steak au Poivre, Rack of Lamb with Goat Cheese and Hazelnut Crust, Italian Rolled Chicken Breasts filled with Proscuitto and Mozarella, Asparagus Risotto, Pan-seared Salmon on a Bed of Couscous with Lemon Butter, to name a few. Dessert specialties are Profiteroles served with homemade chocolate sauce, Whiskey Challah Bread Pudding, Pavlova and Berries, Dessert Crepes with Carmelized Apples. Homebaked French bread and house wines accompany all dinners.
Local Attractions
Durango, a year-round destination, offers Mesa Verde National Park and the Durango-Silverton Narrow Gauge Train for visitors. Excellent hiking, horseback riding, mountain bike trails, and rafting/kayaking are also activities. Just 13 miles from the Apple Orchard Inn is the Durango Mountain Resort -- great skiing in the wintertime and fun hiking and biking in the summertime.